US President Donald Trump vowed on the campaign trail to grow the US fleet to 350 ships—a target in line with the Congressional Research Service's 2016 conclusion that 355 ships are required to meet national security strategy goals.
But financing fleet growth and doing so in a timely manner constitute major obstacles to achieving that aim. At current construction rates, the Navy will not possess a 350-ship force until at least 2035, the Congressional Budget Office's Eric Labs told the US Senate Armed Services Subcommittee on Seapower on Tuesday.

Naval expert Jerry Hendrix from the Center for a New American Security League stressed to the Senate panel that major investments in the US shipbuilding industry would be essential for sending a message to other global powers not to mess with the US at sea.
Failure to do so encourages fellow world powers to tell other countries the US Navy cannot be relied on to ensure their maritime safety, according to the delegation of seapower specialists.  
Washington's "adversaries look at our budget process and exploit it," the Center for Strategic and Budgetary Assessments' Bryan Clark told lawmakers.
Deterring potentially hostile navies from their own fleet proliferation plans requires "a larger fleet," Clark explained, especially as "regions such as Northern Europe, the Eastern Mediterranean and the Indian Ocean become hotspots for great power competition and confrontation."
There's also the argument that US fleet proliferation encourages others to accelerate shipbuilding to keep up the pace, leading to more seapower overall. The Chinese navy is "moving toward an ambition of 500 warships, including air nuclear submarines, amphibious ships and a burgeoning frigate and destroyer force," according to the Royal United Services Institute.
A spokesperson for the think tank contended that since "it is hard to recall growth at a similar pace in any navy across history … Beijing is slowly pulling ahead."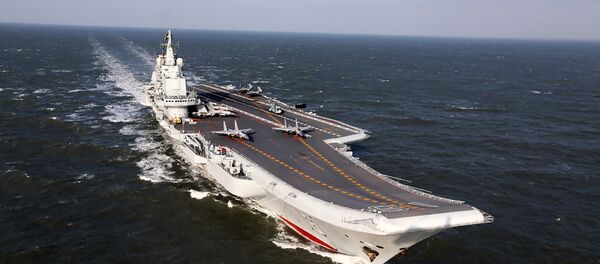 "The cost to build and operate a 355-ship fleet would average $102 billion per year (in 2017 dollars) through 2047," the CBO estimates. This figure is "more than one-third greater than the amount appropriated for fiscal year 2016 for today's 275-ship fleet."
Simply throwing money at shipbuilders won't magically create the 355-ship navy. The Defense Industrial Base (DIB) "is more important than any individual weapons program" and a "critical component of our national security," Hendrix wrote in a July 26 commentary for Breaking Defense. Among other factors, "waves of industrial mergers and defense contractor consolidations and naïve strategic assumptions regarding the 'end of history' have left America's DIB fragile and lacking in redundant capability."