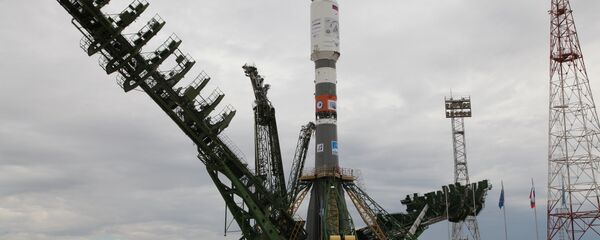 MOSCOW (Sputnik) — Russian military aircraft are re-deployed to the airfields of Siberia and Kazakhstan to ensure the launch of the manned spacecraft Soyuz MS-05 on Friday, Russia's Central Military District spokesman said Wednesday.
"Aircraft of the Russian Defense Ministry completed flights to operative airfields in Baikonur, Karaganda, Gorno-Altaysk and Kansk for search and rescue support of the launch of the manned Soyuz MS-05 transport spacecraft, scheduled for 18.42 (Moscow time) on July 28," spokesman Col. Yaroslav Roschupkin said.
He also added that 125 military servicemen, six Mi-8 helicopters, three An-26 and An-12 aicraft, as well as ten off-road vehicles, including two search and evacuation amphibians, participate in the launch.
On July 28, the Russian manned Soyuz MS-05 spacecraft will be launched to the International Space Station (ISS), carrying the members of Expedition 52/53: NASA astronaut Randolph Bresnik, European Space Agency's astronaut Paolo Nespoli and Russian cosmonaut Sergey Ryazansky. Members of the space crew are expected to spend 139 days in orbit. Expedition 52, which includes Russia's Fyodor Yurchikhin and US astronauts Jack Fischer and Peggy Whitson, is currently on board the ISS and is due to return to Earth in September.
The Soyuz spacecraft currently are the only spacecraft suitable to carry out manned missions to the ISS. The previous manned mission to the ISS on board the Soyuz MS-04 flight was launched on April 20.