MOSCOW (Sputnik) — In early May, Maduro announced his decision to convene the National Constituent Assembly in a bid to amend the acting constitution. The opposition regarded the president's decision as an attempted coup, resulting in an escalation of already fraught tensions. The elections of the members of the Constitutional Assembly are scheduled for Sunday.
"Venezuela is being exposed to bullying by the world media besieging [the country]. [They] spread lots of false versions, lots of lies. This is what we call 'fake news' today, isn't it? The era of post-truth [has come]," Maduro told the RT broadcaster.
The president also added that the world TV and press engaged in a mass attack against Venezuela on a daily basis.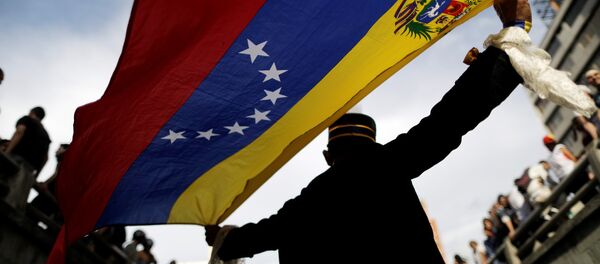 "Venezuela has its constitution, the world has to know that. It may as well be one of the few constitutions in the world that comprises efficient principles of original constituent power. It endows the president and other authorities, including the people, with the right to convene a National Constituent Assembly," Maduro added.
Venezuela has been in the grip of sweeping anti-Maduro street protests since late March, when the government attempted to deprive Congress of its legislative functions in favor of the Supreme Tribunal of Justice, the country's highest court of law. Though the action was almost immediately reversed, the civil unrest continued to gain momentum, leading to over 100 people being killed and hundreds arrested so far.