The inquiry, set up to examine into police spying practices since 1968, was launched by then-Home Secretary Theresa May in 2014 following revelations police spies had gathered information on the grieving relatives and friends of Stephen Lawrence and Jean Charles de Menezes, formed long-term relationships with female activists and stolen the identities of dead children to create their pseudonyms.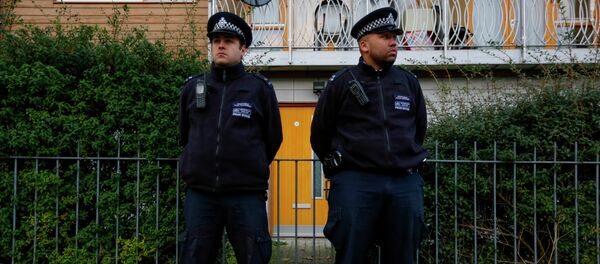 25 February 2015, 10:57 GMT
More than a dozen official inquiries have been announced, but all others are internal and will remain confidential, overseen or carried out by the very forces involved in the scandal. The public inquiry has been much delayed, as police chiefs have attempted to block its investigations, arguing its proceedings should be private in order to protect their spies and spying techniques. The police have also submitted legal applications to keep the identities of their spies secret.
It disclosed the figures after campaigners enquired how many political groups were known to have been infiltrated — although requests for a full list of the targeted organizations, and the fake identities used by undercover officers, were not answered. In the former instance, previous exposures suggest it will likely include environmental, anti-racist and animal rights movements, and both left wing and far-right parties and collectives.
Since the 2010 exposure of Mark "Stone" Kennedy as a long-term undercover infiltrator of activist groups in the UK and abroad, it has been determined at least 144 undercover police officers have been deployed to spy on political groups since 1968. Extensive profiles of 20 agents have been compiled by the Undercover Research group — as documented undercover agents typically spied on more than one group (whether at once or at different times), it's almost certain the total number of undercover police officers that inveigled themselves in activist circles is several times what was initially thought.
The spies developed elaborate false identities supported by fake documentation provided by the state, and typically spent five years pretending to be political activists while they fed back to their superiors information about the activities of campaigners and the protests they organized. Moreover, officers testified in Court under their false names, withheld exculpatory evidence, acted as agent provocateurs and planned and participated in serious crimes.
The most notorious "spy cops" yet uncovered include Bob Lambert, who moonlighted as "Bob Robinson" in the Animal Liberation Front and London Greenpeace in the 1980s. Over the course of his deployment, he is alleged to have planted a fire bomb in a branch of department store Debenhams, committed perjury and co-authored the infamous "McLibel leaflet" — the pamphlet documented McDonald's unethical practices, leading the fast food giant to sue London Greenpeace leaders Helen Steel and David Morris for defamation, in a case that lasted a decade. He also fathered a child with an activist.
​In May, Andy Coles, Deputy Police and Crime Commissioner for Cambridgeshire and Peterborough, resigned after being unmasked as an undercover operative who spied on animal rights groups from 1991 — 1995, under the pseudonym Andy Davey. In a lengthy profile, based on evidence collected by URG, it is noted suspicions about the bogus activist abounded contemporaneously, but were largely silenced due to "Davey's" specialist IT skills.
Coles has also been accused of attempting to foster, and successfully fostering, sexual relationships with fellow activists. The practice is alleged to have contravened strict internal guidelines on undercover conduct, and has been dubbed by the Metropolitan Police as a "violation" of the victims' human rights, and "an abuse of police power" that caused "significant trauma." Nonetheless, examples of known police spies that didn't do so, or attempt to do so, are exceptionally rare — leading some activists to suggest such practices were deliberate policy.
On July 25, the Home Office confirmed  the public inquiry would now be headed by a new judge, Sir John Mitting. He replaces Sir Christopher Pitchford, who stepped down after being diagnosed with motor neurone disease.