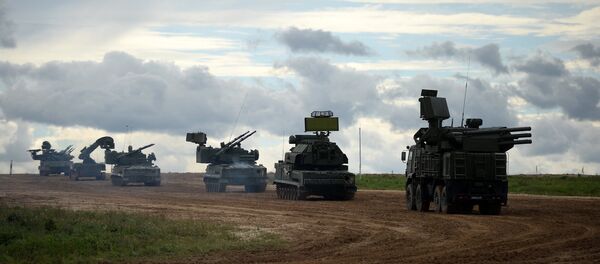 MOSCOW (Sputnik) — "Air defense units of the 150th Motorized Rifle Division of the SMD will conduct first live firing from the newest Tor-M2 missile systems," the press service said in a statement.
The press service noted that the servicemen have completed a theoretical and practical training course on the Tor-M2 air defense missile systems in the training center of the Russian Land Force's Air Defense Troops in the Krasnodar Territory.
"In total, about 300 servicemen were involved in retraining," according to the statement.
Following the live firing, the air defense units will arrive at the points of permanent deployment with new combat equipment.
Tor-M2 is an advanced short-range surface-to-air missile system, designed to defend key military and civilian facilities from attacks by aircraft, cruise and guided missiles, as well as unmanned aerial vehicles. It can simultaneously detect more than 40 targets, track and attack four of them at once at a range of up to 23,000 feet and at altitudes of up to 19,700 feet.