SCOW (Sputnik) – Petrova said that two other people were wounded as a result of a shootout.
"According to preliminary information, during transportation in the elevator, they attacked police officers and tried to take their service weapons. When the elevator opened… three arrestees trying to escape were eliminated, two were wounded. A Rosgvardia [Russian National Guard] officer received a gunshot wound and was hospitalized, two police officers received various injuries," Petrova said.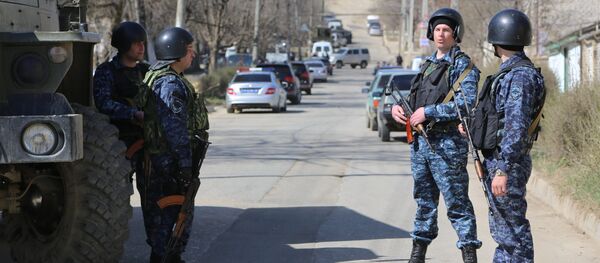 20 December 2016, 21:51 GMT
A source in the law enforcement told Sputnik that one of the defendants injured his guard after allegedly seizing the guard's firearm. Rosgvardia confirmed that all the gang members took part in the shooting.
In addition, medical sources informed Sputnik that a bailiff, who sustained injuries during the shooting has been hospitalized and another court employee was on the way to the hospital.
It was ealier reported that four defendants in the case of the so-called GTA criminal group were killed in a shootout in the Moscow Regional Court.
"I spoke to the head of the investigative team. According to him, four out of 11 defendants were killed," Diana Tatosova, a lawyer of one of the defendants, told Sputnik.
Prior to that, Sofya Rubasskaya, another lawyer, told Sputnik that several people had been injured in a shootout in the Moscow Regional Court.
Rubasskaya said she had heard at least 20 shots.
The court's spokeswoman Natalya Osipova told Sputnik that the court had completely evacuated staff and visitors, all sessions were postponed. She did not clarify the cause of the incident.