MOSCOW (Sputnik) — US President Donald Trump often criticized China for not doing enough to rein in North Korea and threatened to use punitive trade policies against Beijing, however, this strategy, to link nuclear crisis on the Korean Peninsula to US-China relations, is impossible to succeed, experts told Sputnik.
TWO COMPLETELY DIFFERENT ISSUES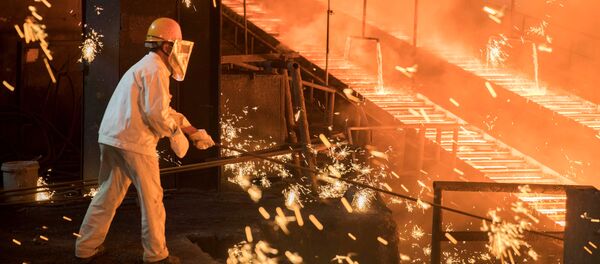 The US president has constantly tried to use favorable trade policies against China as a bargaining chip when meeting with Chinese leaders, as part of his efforts to get Beijing to help resolve growing nuclear threats the United States faces from North Korea.
However, Chinese experts told Sputnik that it was impossible for Trump to achieve his goals by betting US-China relations solely on resolving the nuclear crisis on the Korean Peninsula.
"From his presidential campaign to after winning the election, including his first meeting with [Chinese President] Xi [Jinping] at the Mar-a-Lago resort, Trump has always bet the complicated Sino-US relations on the single issue of North Korea. This strategy is destined to fail, because North Korea issue is the most difficult problem that is not easily resolved," Shi Yinhong, a professor of international relations at the Renmin University in Beijing, told Sputnik.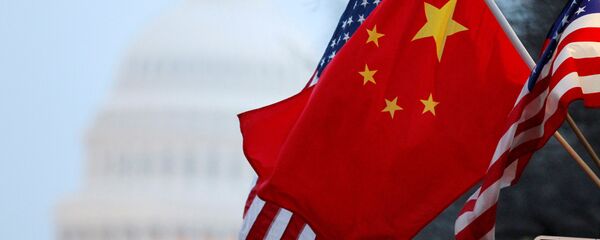 It is impossible for China to meet Trump's demand on cutting off trade relations with North Korea completely, which is not what the UN resolutions have required, Shi added.
After his first meeting with Xi in Florida in April, Trump appeared to be satisfied with the Chinese president agreeing to increased cooperation in reining in North Korea. But the US president started to become increasingly impatient with China with each new ballistic missile test conducted by Pyongyang in recent months.
Trump once again expressed his frustration on Twitter earlier this week, saying that he is "very disappointed in China."
"Our foolish past leaders have allowed them to make hundreds of billions of dollars a year in trade, yet they do NOTHING for us with North Korea, just talk. We will no longer allow this to continue. China could easily solve this problem!" Trump said in a message on Twitter.
I am very disappointed in China. Our foolish past leaders have allowed them to make hundreds of billions of dollars a year in trade, yet…

— Donald J. Trump (@realDonaldTrump) July 29, 2017
​If Trump continues to hold onto this strategy, he could risk damaging bilateral relation between China and the United States further, the Chinese expert warned.
"In fact, after June 20, Trump has already taken actions [that could hurt US-China relations]. I think it would not help improve bilateral relations. On the contrary, it would make it more difficult to resolve the North Korea issue or improve trade relations between the two countries," Shi said.
On June 20, Trump tweeted that while he greatly appreciated the efforts of President Xi and China to help with North Korea, it has not worked out, adding "At least I know China tried!"
Chinese Vice Minister of Commerce Qian Keming said at a press conference on Monday that China believed the nuclear crisis on the Korean Peninsula and Sino-US trade were two issues from completely different fields, which are not related and should not be mixed up with one another.
CHINA DOES SAME TO SOUTH KOREA
US experts argued that it was unfair for China to cry foul of Trump trying to link US-China trade relations to North Korea, which is a major security issue for the United States.
"China does not have any standing to argue that different issues in security and economics should not be linked. China has for the past several months done exactly this with regard to South Korea. It has closed Lotte stores in China, slowed the flow of tourists to South Korea, and taken other steps to 'punish' South Korea for working with the United States to install missile defense to protect against North Korea's growing threat," Scott Kennedy, the deputy director of the Freeman Chair in China Studies and director of the Project on Chinese Business and Political Economy at Center for Strategic and International Studies in Washington DC, told Sputnik.
Kennedy pointed out that Trump's comments on Twitter might also not be actual China policies from his administration.
"It does not appear to me that the Trump administration is directly linking its policy on trade policy with China with how much or little China helps address the North Korea challenge. I have not seen any direct evidence other than the president's tweets that this is the case, but actual practice seems different," he said.
US HAS POLITICAL LEVERAGE VS CHINA
Trump's top advisers are preparing a set of economic measures to punish China, US media Politico reported earlier this week. US Senate minority leader Chuck Schumer wrote a letter to Trump on Tuesday, urging the US president to get tougher on trade with China.
"If China continues to passively address North Korea, I urge you to use your authority over the Committee on Foreign Investment in the United States to suspend the approval of all mergers and acquisitions in the United States by Chinese entities," Schumer wrote in a letter obtained by The Wall Street Journal.
In addition to economic measures such as proposed steep tariffs on China's steel exports or restricting Chinese investment in the United States, the Trump administration also holds an important political leverage against China, US experts told Sputnik.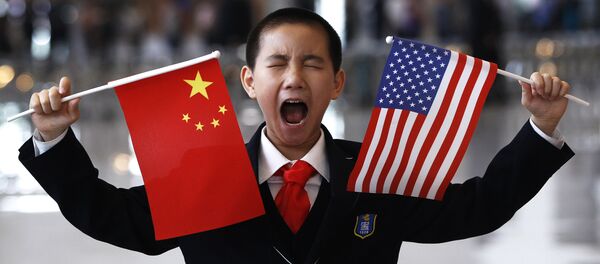 Guo Wengui, a Chinese businessman with close ties to the Chinese leadership who is living in exile in the United States, launched a campaign on Twitter in recent months, accusing senior Chinese officials, including China's top anti-corruption official Wang Qishan, of serious corruption. Guo alleged that Guan Jun, a major stakeholder of Chinese conglomerate HNA Group, is actually Wang's out-of-wedlock son. Following Guo's allegation, HNA group announced that Guan transferred his 29 percent stake in the company, the equivalent of as much as $18 billion, to a New York-based private foundation.
Chinese authorities rebuffed Guo's accusations and said his stories are fabricated.
"They say this guy [Guo] has got the crown jewel. I think China is absolutely terrified of him. This could be an earthquake [for Chinese leadership], if he reveals what he knows," Arthur Waldron, an original member of the US-China Economic and Security Review Commission and a Lauder Professor of International Relations at University of Pennsylvania, told Sputnik.
The US expert believes that Xi continues to have many enemies domestically and the leader is trying to consolidate his power.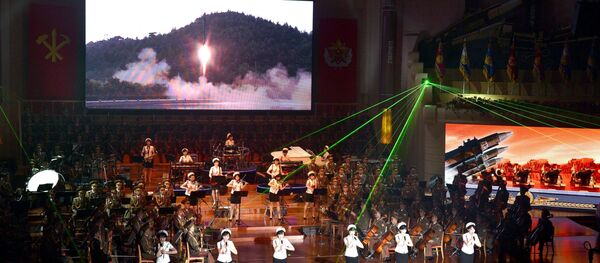 As China faces a major political power transition in October this year, when the 19th Congress of the Chinese Communist Party slated to pick core members of the next group of top Chinese leaders, Guo's allegations have brought a great extent of uncertainty.
"The fact that this man is in the United States and the Chinese do not know what he's telling us. It is a great source of worry to them," Waldron noted.
He suggested that Trump was well positioned to use this leverage against China.