President Donald Trump has signed a bill to slap new sanctions on Russia, Iran and North Korea, a White House official confirmed to RIA Novosti on Wednesday.
Trump signed the bill on Wednesday morning, without holding an official signing ceremony as he has done with other major pieces of legislation, according to media reports.
The legislation, which has now become US law with Trump's signature, punishes Russia for its alleged interference in the 2016 election as well as military activities in Ukraine, Crimea and Syria.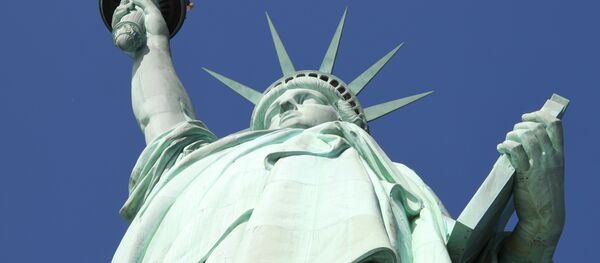 The sanctions target Russia's defense, intelligence, mining, shipping and railway industries and restricts dealings with Russian banks and energy companies.
The law also limits the US president's ability to ease any sanctions on Russia by requiring Congress' approval to lift any restrictions.
For instance, Trump would now need Congress' permission to reverse measures imposed by his predecessor Barack Obama. He would also need lawmakers' approval to return Russian diplomatic properties that were seized under the previous administration.
The law also imposes punitive measures against Iran over the country's ballistic weapons program, detention of US citizens, human rights abuses and terrorist activities across the Middle East and North Africa.
In addition, it targets North Korea over its ballistic missile tests and human rights abuses.

Russia has repeatedly refuted US allegations it has interfered in the US election, calling them absurd and intended to deflect public attention from actual, revealed election fraud in the United States as well as other public concerns.
Moscow has also refuted claims it interfered in Ukraine's internal affairs and pointed out that Crimea rejoined Russia via a popular referendum in which the vast majority of residents chose that course of action.
Moreover, Russia has pointed out that it has acted in Syria on the invitation of the country's legitimate government of President Bashar Assad. The United States' military activities in Syria have been undertaken without the approval of the UN security Council or the Syrian government.