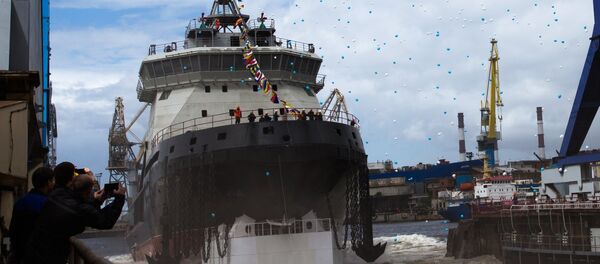 WASHINGTON (Sputnik) — Members of the Naval Surface Warfare Center, Department of Homeland Security and Naval Sea Systems in the United States have joined with Canada's National Research Council to design a new icebreaker for the US Coast Guard, the Navy said in a press release on Friday.
"Engineers and scientists from Naval Surface Warfare Center, Carderock Division [NSWC, Maryland] are working with an international, multiagency team to define requirements for and create the US Coast Guard's (USCG) next heavy polar icebreaker," the release said.
The Navy identified the organizations working on the icebreaker program in the release as the Coast Guard, US Department of Homeland Security (DHS) Science and Technology Directorate (S&T), Naval Sea Systems Command (NAVSEA), and the National Research Council of Canada (NRC) at NRC's St. John's, Newfoundland, ice-test facility.
The partnership with Canada on the icebreaker program is based on an a 2004 agreement for Cooperation in Science and Technology for Critical Infrastructure and Border Security, the release explained. The success of icebreaker designs will depend on rugged testing protocols.
"The heavy polar icebreakers will spend considerable time transiting in ice-free conditions, emphasizing the importance of the open-water performance," the release stressed. "Model tests at [NSWC, Maryland] will evaluate seakeeping, resistance, powering, and maneuvering performance with the ultimate goal of balancing icebreaking and open-water mobility capabilities."
Testing at the NRC's location will take place in the second longest ice-tank in the world, the release noted. The 270 yard tank is capable of modelling a wide range of marine ice conditions, including first-year and multi-year ice, pack ice, ridged ice and glacial ice.