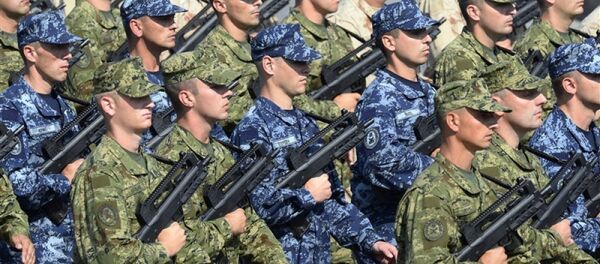 The idea of emulating the Croatian experience of "reintegration" in the self-proclaimed Donetsk and Lugansk People's Republics has been circulating in Kiev's corridors of power since the start of the armed conflict in Donbass three years ago.
"Croatia is a good example. While tolerating the existence of Krajina for three years, the Croats built up their economy and armed forces and then, in a matter of hours, their tanks wiped the separatists off the face of the earth," Yuriy Lutsenko, then President Poroshenko's political advisor, wrote on Facebook in 2014.
In 2016 Ukraine and Croatia set up a working group to provide consultative assistance to Ukraine on "reintegration of occupied territories." Croatia's then Prime Minister Andrej Plenkovic said that his country was ready to share its experience of winning back lost territories.
The move invited an angry rebuff from Moscow.
"The casualties inflicted by the large-scale military operations in Croatia in 1995 – Operation Lightning and Operation Storm – are well known, as is the resulting forced exodus of around 250,000 Serbs who permanently resided there. We have reason to fear that recommendations by foreign "consultants,", which might encourage dangerous illusions among the Kiev leadership that a military solution is possible in Donbass, will do anything but improve security in Ukraine's southeast," the Russian Foreign Ministry said in a statement.
Unfazed by this, Ukraine's Prime Minister Volodymyr Groisman said in June 2017 that Ukrainian officials should emulate the experience of Croatia, which "after a bloody war provoked by the regime of Slobodan Milosevic managed to take back lost territories and restore peace."
In an interview with RT, Yevsei Vasilyev, an expert on international security at the Russian State Humanitarian University in Moscow, said that Kiev was citing the Croatian experience in order "to apply its military aspect to the disobedient Ukrainians in the east."
"There are two reasons why the Croatian model is so appealing to Kiev. First, because it would help solve the problem with the help of a large-scale military operation, and, secondly, it would absolve them from any responsibility for the loss of civilian lives, because 'the winner gets it all,'" Vasilyev said.

"Advised by their Western and NATO mentors, the Ukrainian authorities would like to use the 'Croatian scenario to get rid of the Donetsk and Lugansk People's Republics and bring Donbass back under Kiev's control. This is exactly what happened to the
Republic of Serbian Krajina
, which Croatia clawed back in 1995-1998," the expert continued.
He added that, just like the Croatia of the 1990s, Ukraine was now run by nationalists leaning back on Western assistance in their standoff with Russia.
"However, there is one big difference between the Croatia of 1995 and present-day Ukraine, and this is Russia, which will not allow any repetition of the Western scenarios of war crimes against civilians, much less in the vicinity of its borders," Yevsei Vasilyev emphasized.
The Donbass conflict erupted in April 2014 as a local counter-reaction to the Western-sponsored Maidan coup in Kiev that had toppled President Viktor Yanukovych in February.
Residents of the Donetsk and Lugansk regions held independence referendums and proclaimed the People's Republics of Donetsk and Lugansk. Kiev has since been conducting a military operation, encountering stiff local resistance.