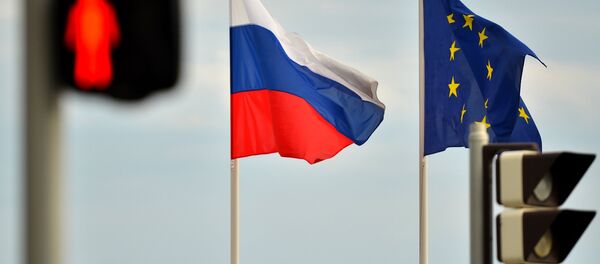 ROME (Sputnik) — New sanctions imposed on Russia by the United States blow against the economic interests of Europe in Russia, President of the Russian-Italian Chamber of Commerce Rosario Alessandrello told Sputnik.
"The main goal of the sanctions is to turn Russian and European companies against each other and to deprive Europe of a choice in energy sector and to force it to import US gas. This gas is more expensive than the Russian one but it is also more difficult to be extracted. In order to use the US gas it is necessary to construct big gas liquefaction plants in the United States, deliver gas to Europe and then utilize it in power grids," Alessandrello pointed out.
According to Alessandrello, the imposed sanctions will mainly affect the ability of Russia and Europe to compromise in the energy sphere. The president of the Russian-Italian Chamber of Commerce has also commented on Moscow's decision to reduce the number of US diplomatic personnel in Russia, saying it was "rather tough" but fair.
"[Russia] did it just in order to distinguish between the Congress' actions and the actions that might have been taken by [US President Donald] Trump after meeting with [Russian President Vladimir] Putin on the margins of the G20 summit in Hamburg. And why did the Congress take such a decision on the sanctions? First of all, in order to weaken and oust Trump and not to let him rule the country," Alessandrello explained.
Last week, the US Congress approved a bill on new sanctions against Iran, North Korea and Russia and news emerged that Trump intended to sign it. The US president approved the sanctions bill last Wednesday. The law specifically targets Russian energy sector and energy companies and provides for counteracting the Nord Stream 2 pipeline construction, as the United States believes the project threatens the energy security of Ukraine and the European Union, proposing to export US energy to ensure the energy security of US allies.
On July 28, Moscow announced countermeasures in response to the US sanctions bill and to the expulsion of 35 Russian diplomatic staff from the United States in late 2016. The measures include the reduction of the United States' diplomatic presence to 455 people, or the same number of Russian diplomatic workers currently residing in the United States.