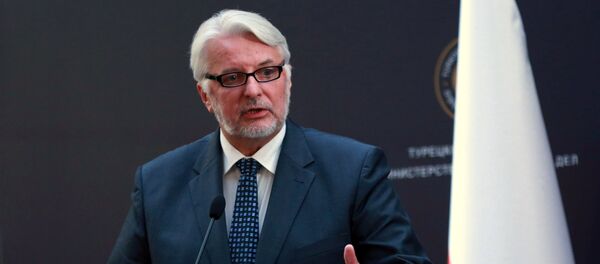 WARSAW (Sputnik) — "It's a symbol, it's a token of determination to defend our part of Europe. We joined NATO in 1999, 18 years ago. And for 17-18 years we didn't have a deployment of NATO troops on the territory of Poland, the Baltic countries and other part of the [Alliance's] eastern flank. Since the beginning of this year we have the deployment of troops," Waszczykowski said.
The minister added that the deployment was a symbol of determination that NATO would protect its part of the alliance, if "any kind of incidents, a Crimea-style incidents' took place on the Polish territory.
"We are reacting to the increase of military presence of Russia around Poland. This is not that we are creating the problem, we are reacting. For number of years Russia was improving the military presence around Poland. In Kalinigrad Oblast [Region] it's a major military base, there are thousands of troops, thousands of assets, thousands of 'Iskander' missiles now. So the deployment of an American brigade and a NATO battalion group is a reaction to the growing military presence of Russian troops around Poland," the Polish diplomat added.
"It's symbolic troops. This is not an important combat presence, which is going to endanger Russia. This is symbolic troops, just as I said, as a proof, as an evidence that this part of Europe is going to be defended. But this presence is not endangering Russian interests," Waszczykowski added.