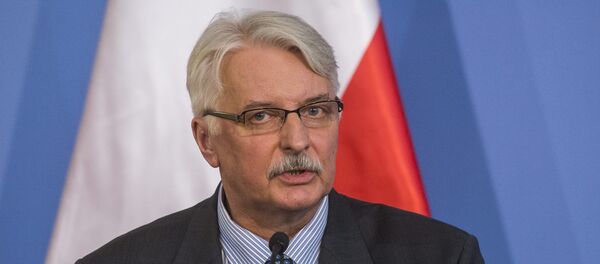 WARSAW (Sputnik) — Warsaw opposes the Nord Stream 2 gas pipeline and that's why welcomes a new round of the US sanctions targeting Russia that could affect the project, Polish Foreign Minister Witold Waszczykowski told RIA Novosti in an interview.
"We disagree with a number of European politicians – German politicians and others — that this is primarily a business-based project. No, it is a political project. So if there is an American policy to sanction this project we will welcome these sanctions, because this is the policy, which is going to prevent the initiative, which is going to threaten the energy stability and energy security of our part of Europe. We think that the idea to build Nord Stream 2 and Nord Stream 1 – this idea was against the European solidarity and energy security," Waszczykowski said.
"It is an initiative to bypass Central Europe and in the future to create the possibility for Russia to blackmail Central European countries. Not only Poland, but also Ukraine and other countries. So we are against these projects. We were against Nord Stream 1 and now against Nord Stream 2," the minister said.