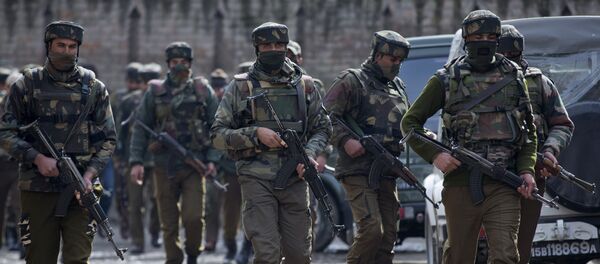 MOSCOW (Sputnik)
–
Indian armed forces killed five militants who tried to cross the Pakistani-Indian border in the disputed area of Kashmir, Indian Army's Northern Command said on Monday.
"Infiltration bid foiled in Machhil Sector (Kupwara [district]). Five armed intruders killed. Ops in progress," the command wrote on Twitter.
The Jammu and Kashmir region has been disputed by India and Pakistan since the end of British rule in 1947. Following several armed conflicts, the two countries agreed to a ceasefire in 2003. Since then, both sides have repeatedly accused each other of violating the truce. The unstable situation in the region led to the emergence of extremist groups.
A significant escalation of tensions in the region occurred in July 2016 after Indian security forces killed Burhan Wani, the leader of a separatist group.