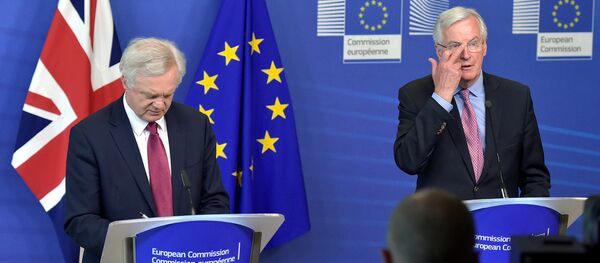 LONDON (Sputnik)
–
The number of UK citizens who disapprove the current progress of the Brexit negotiations has increased by 5 percent in the last month, reaching 61 percent in August, a fresh poll by ORB showed Monday.
"This months Brexit tracker suggests the damage from a poor election result is continuing to cast doubt over Brexit. Approval of the Governments handling of the negotiations has fallen again since last month," the ORB said in a press release.
According to the survey, only 35 percent of respondents are confident that Prime Minister Theresa May will get "the right deal" with the European Union.
UK citizens remain divided on the economic prospects of the country's withdrawal from the European Union. According to the poll, 40 percent of respondents believe that the country would be better off after Brexit, while 37 percent feel otherwise.
The poll was carried out on August 2-3 and involved 2,000 adults across the United Kingdom.
In early June, the United Kingdom held snap parliamentary election, which was initially intended to unify the political leadership ahead of the upcoming Brexit negotiations. However, May's authority was shattered when the vote resulted in a hung parliament and prompted the Conservatives to arrange a deal on support with the Democratic Unionist Party (DUP).
On June 23, 2016, the United Kingdom voted to leave the European Union in a referendum. Brexit negotiations between the United Kingdom and the European Union officially kicked off on June 19, and are due to be completed by the end of March 2019.