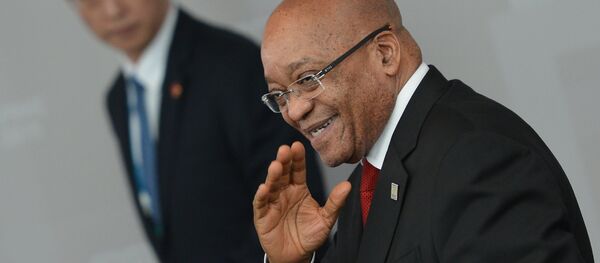 MOSCOW (Sputnik) — Mmusi Maimane, the leader of South Africa's opposition Democratic Alliance (DA) party, said Tuesday that President Jacob Zuma barely surviving the no-confidence vote in parliament showed that the ruling African National Congress (ANC) party was divided and on its last legs, which signals that the country needed a new government after the general election in 2019.
Zuma's victory earlier in the day was ensured by 198 votes supporting him against 177 in favor of the motion brought by the DA, while nine people abstained. Some members of his own party voted against Zuma.
"The result reveals an ANC that is totally divided against itself. Jacob Zuma has survived, but he has nothing to celebrate tonight. He is mortally wounded, and his party is in tatters. Tonight's result, despite the slender victory, signals the death of the ANC," Maimane said in a statement.
The opposition party leader added that Zuma was the embodiment of "what the ANC has become — a toxic mix of corruption, cronyism and nepotism," and that he was a norm within the party, rather than an exception.
"It's time for a new beginning that will bring total change in South Africa. Today's result is not a cause for despair. It should serve as motivation to South Africans to organise, get involved and help build a new government in 2019," the statement said.
South African opposition has repeatedly accused the president of corruption and fraud. Last year, the country's Constitutional Court ruled that the president had to return $15 million in state funds allegedly spent on upgrades to his private home unrelated to security.
In December, Zuma, who cannot run for the third term under the country's legislation, will have to leave the presidential office ahead of the general election. The ANC has been in power since 1994.