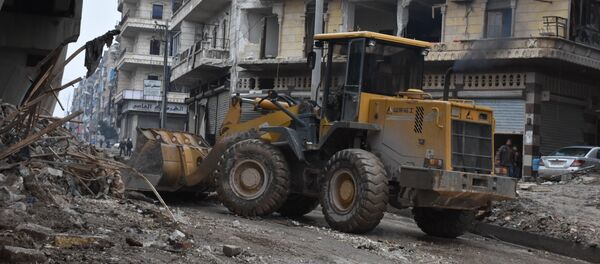 MOSCOW (Sputnik) — According to the statement, a new organization consisting of representatives of all the liberated areas in the vicinity of the northern part of Homs and in southern suburbs of Hama established a committee to discuss an accord on the de-escalation zone reached in Cairo by the representatives of the Russian Defense Ministry and moderate Syrian opposition.
"On August 8, the delegation [of the committee] held a meeting with Russia's representative… The representatives of the Syrian authorities did not attend the meeting," the Tuesday statement said.
The statement added that the participants of the meeting agreed to consider the Cairo deal out-of-date and to "define the project of a new deal in line with the major principles of the revolution."
According to the statement, the participants of the meeting also agreed on the date of the next meeting to discuss the new agreement and its provisions.
The international community has taken a number of steps to settle the deadly Syrian conflict that has already caused a large-scale humanitarian conflict in the Middle East.
Within the framework of these settlement efforts the memorandum on the establishment of four de-escalation zones in Syria was signed in Astana in May, with Russia, Iran and Turkey acting as the guarantors of the ceasefire regime. The first one, in the north of the country, covers the province of Idlib and neighboring districts of Latakia, Aleppo and Homs. The second is in the north of the province of Homs. The third is located in the south of Syria, in the Quneitra and Daraa provinces, while the fourth one is in the Eastern Ghouta.