GORKI (Russia) (Sputnik) – Several European banks will join the financing of Russia's Yamal LNG liquefied natural gas project in coming months, the board chairman of Russia's Novatek gas producer said Thursday.
"A number of European banks, of countries that are also participating in this project, will join the financing," Leonid Mikhelson said at a meeting with Russian Prime Minister Dmitry Medvedev.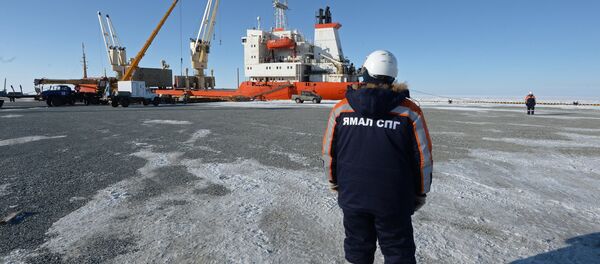 The chairman noted that the company signed a $19 billion loan limit with banks, however the gas producer later asked to reduce this amount as there are several other entities which want to fund the project.
"Capital investment in Yamal LNG amounts to $27 billion. But, considering the new solutions, we plan that a 30 percent reduction [of costs] will take place. The contracts were signed for Yamal LNG worth about 600 billion rubles [almost $10 billion]. This figure will be sharply increased," Mikhelson added.
Novatek's top executive underlined that the second stage of Yamal LNG will be put into operation three months earlier than expected, while the third one will be finished six-nine months earlier. Mikhelson also told Medvedev about other projects of the energy giant, most notably about the company's LNG project Arctic-2.
"We made a decision to change the design. The LNG train will be based on gravitational platforms. These platforms, as well as the liquefaction trains, will be constructed in a normal factory conditions. We plan to launch the first stage of Kolskaya shipyard in 2019 and start the construction," Novatek's executive said.
The chairman added that the NIPIGAS engineering center, responsible for the design of the Artic-2 project, will finish its work by the end of 2018.
"Last month, we signed an agreement for the project stage. The project stage will be finished by the end of next year. At the earlier stages, we invite all Russian manufacturers and suppliers available. We have held a big workshop, over 50 representatives from factories and contractors were in attendance," Mikhelon said.
The Yamal LNG Project is considered one of the largest industrial initiatives in the Russian Arctic. It involves construction of facilities to supply 16.5 million metric tonnes of LNG per year from the resource base of South Tambey in Russia's Arctic Yamal Peninsula. Novatek is said to own a 60-percent equity stake in the project, with China's CNPC and France's Total at 20 percent each.
Arctic LNG 2 is Novatek's second LNG project. It is scheduled to be launched in 2022-2025. Gas deposits of Siberian Gydan Peninsula will become its resource base.