MOSCOW (Sputnik) — On Wednesday, the US Department of Treasury announced the expansion of its sanctions on Venezuela. These measures included travel bans and asset freezes on eight people who played a role in convening the new legislative body, the Constituent Assembly.
"Certain internal and external political forces promote a destructive line aimed at dismantling the emerging dialogue and, in fact, at returning the situation to the initial impasse, contrary to the very logic of developments [in Venezuela] and their own calls for the democratization of the ongoing processes in Venezuela. The expansion of unilateral sanctions and restrictions, isolationist measures, pressure, and the ultimatum toward Caracas applied by a number of countries can hardly be seen in a different light," the statement read.
The Russian Foreign Ministry stressed that the situation in Venezuela could only be addressed through direct negotiations between the government and opposition.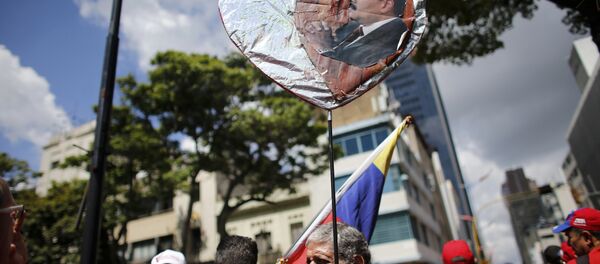 According to the statement, peace in Venezuela depends on the willingness of all parties to return to a dialogue within the Venezuelan Constitution, without any outside intervention, to form a common agenda.
The National Constituent Assembly, which proclaimed itself the main governing body of Venezuela, is a new legislature with the power to amend the country's constitution. It was elected on July 30 amid mass protests across Venezuela, which resulted in 10 deaths on election day alone. Overall, the death toll has risen to more than 120 people since early April.
The Venezuelan opposition has refused to recognize the legitimacy of the Constituent Assembly, as it believes that Venezuelan President Nicolas Maduro's plan for constitutional reform aims at sidelining the opposition-controlled National Assembly.