The president took to Twitter in July to announce that, upon consultation with generals and military experts, the "United States Government will not accept or allow Transgender individuals to serve in any capacity in the US Military," The Hill reported.
Trump added in a second tweet, "Our military must be focused on decisive and overwhelming victory and cannot be burdened with the tremendous medical costs and disruption that transgender in the military would entail. Thank you."After consultation with my Generals and military experts, please be advised that the United States Government will not accept or allow……
The president's tweet, if and when it is enforced, will negate the huge victory transgender people won in June 2016, when the Pentagon established that they could openly serve in the military. If enacted, approximately 15,000 transgender people already part of the US military would be affected by the ban, Slate reported.
According to Joint Chiefs of Staff Chairman Gen. Joseph Dunford, however, "There will be no modifications to the current policy until the president's direction has been received by the Secretary of Defense and the Secretary has issued implementation guidance."
Although the Department of Defense is still "awaiting formal guidance from the White House," the Pentagon deferred enlistment of new transgender military members until January 1, 2018.
In their lawsuit, the National Center for Lesbian Rights (NCLR) and GLBTQ Legal Advocates & Defenders (GLAD) claim that the president's tweets directly violate the Equal Protection component of the Due Process Clauses of the Fifth Amendment.
"The categorical exclusion of transgender people from military service lacks a rational basis, is arbitrary, and cannot be justified by sufficient federal interests," the rights groups said in their complaint.
The tweets have already caused considerable harm to the suing trans service members. In their complaints, the rights groups said the proposed plan has "resulted in immediate, concrete injury to plaintiffs by unsettling and destabilizing plaintiffs' reasonable expectation of continued service."
The five plaintiffs in the case, who are in various military branches including the Coast Guard, the National Guard, the Army and the Air Force, have collectively served for 60 years.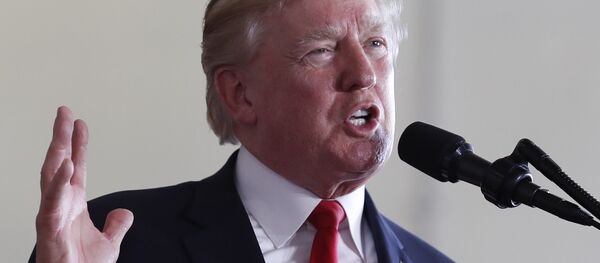 According to The Palm Center estimates, it could cost $960 million or $75,000 per person to train replacements for the thousands of transgender people serving the nation.
Research conducted by The Rand Corporation, a nonprofit global think tank, estimates that the government would only save $8.4 million every year on medical care costs for transgender troops if they go through with the ban.
"If President Trump is truly concerned about the financial costs of transgender service his announced ban has it exactly backwards. American taxpayers should ask the president, who is proud of his business savvy, why he's spending a dollar to buy a dime," Aaron Belkin, The Palm Center's director, said in a statement.