BEIJING (Sputnik) — Earlier in the day, US guided missile destroyer USS John S. McCain sailed within six miles from the man-made Mischief Reef in the Spratly archipelago in the South China Sea, during a "freedom of navigation exercise" in the disputed region.
"We urge the United States to immediately correct its wrongdoing and stop provocations under the pretext of so-called 'freedom of navigation'," the Chinese Defense Ministry said.
The ministry stressed in the statement that the provocative actions of the US armed forces would only push the Chinese army to increasing its defense capability in order to ensure sovereignty and safety.
"At the moment the relations between the armed forces of China and the United States show stable development. However, such provocative actions of the United States significantly hinder bilateral strategic trust, and also create difficulties and obstacles for enhancing relations between the armed forces of the two countries," the statement read.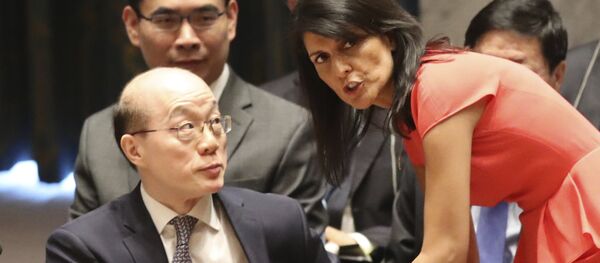 10 August 2017, 12:23 GMT
Chinese authorities have repeatedly voiced their protests against US actions in the region, which are considered by Beijing as violations of its own sovereignty. In July, Beijing expressed its outrage over US guided-missile destroyer USS Stethem entering the waters off the disputed Paracel Islands in the South China Sea, known in China as the Xisha Islands. According to the Chinese Foreign Ministry, the US actions violated Chinese law as well as international law, and constituted a serious political and military provocation.
The Asia-Pacific region faces several territorial disputes in South China and East China seas, involving China, Japan, Vietnam, the Philippines, Malaysia, Brunei and Taiwan. China considers the Spratly archipelago as its territory, despite the Hague-based Permanent Court of Arbitration decision that Beijing had no reasons for territorial claims in the South China Sea. The arbitration proceeding was initiated by the Philippines in January 2013.