MOSCOW (Sputnik), Tommy Yang — North Korea's military will submit a plan of firing intermediate-range ballistic missiles at US territory Guam to the commander-in-chief of its army in mid-August, the official Korean Central News Agency (KCNA) reported Thursday.
US President Donald Trump responded strongly to Pyongyang's threats against Guam, claiming North Korea "will be met with fire, fury and frankly power the likes of which this world has never seen before." The US Department of Defense would deploy B-1B bombers in a preemptive attack on North Korea if Guam comes under attack, senior US military officials were quoted as saying by NBC on Wednesday.
Beijing Incapable of Intervention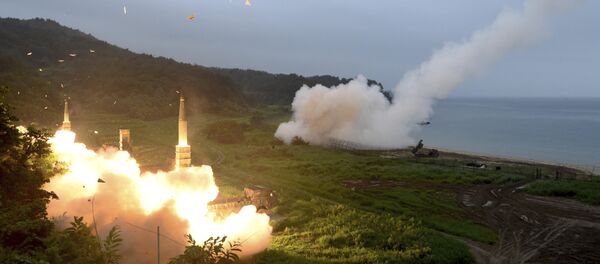 11 August 2017, 13:26 GMT
Facing growing tensions on the Korean peninsula and a possible war next to its western border, China is incapable of preventing either North Korea or the United States from attacking each other, experts told Sputnik.
"I don't think China is capable of stopping North Korea from launching an attack. It's also not capable of stopping the United States from using military force. If both sides are determined to start a war, China has no way of stopping them," Zhang Liangui, an expert on North Korea at the Central Party School, which trains Chinese officials in Beijing, told Sputnik.
If a war does break out on the Korean peninsula, Chinese authorities would probably prioritize protecting its citizens living on the border with North Korea and ensure stability in northeast China, Zhang suggested.
"Beijing has to try to stop refugees from North Korea from entering its territory, which could cause social instability in northeast China. Chinese authorities need to deal with this carefully," he said.
Silence From China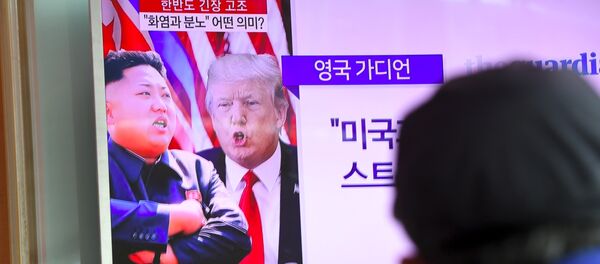 11 August 2017, 13:19 GMT
Authorities in Beijing have largely stayed quiet amid
growing tension
and military threats between North Korea and the United States. Chinese leaders including President Xi Jinping have not made a public comment on the ongoing crisis. China's Foreign Ministry just issued a short statement urging all sides to speak and act cautiously to deescalate the tensions.
While headlines on possible military conflicts between Pyongyang and Washington dominated international press this week, stories related to the crisis on the Korean peninsula are nowhere to be found on major Chinese news portals.
Zhang, the Chinese expert in Beijing, explained that the silence in Chinese press is worth noting.
"China, as a close neighbor to North Korea, is facing a crisis on the Korean Peninsula that has not been seen in decades. This is a major international incident closely related to the security of both Chinese people and the nation. Chinese press ignoring such an important story can trigger a lot of speculation in itself," he said.
The only rare comment in the Chinese press came from the Global Times, which called on China to stay neutral if Pyongyang strikes first and stressed Beijing should prevent the United States from overthrowing the current regime in North Korea.
No Second Korean War for China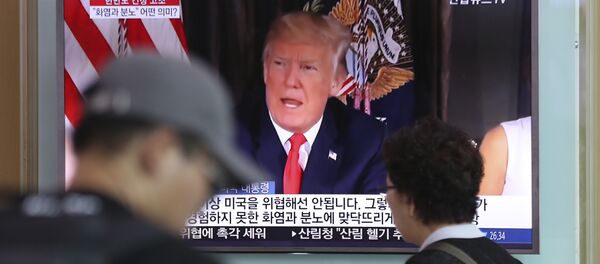 11 August 2017, 12:10 GMT
During the Korean War, China sent its troops across the Yalu River to North Korea in October 1950, to assist the Kim Il Sung-led Communist government against United Nations forces led by the United States. The war ended in July 1953, when both sides signed an armistice agreement to create a demilitarized zone to separate North and South Korea.
The Beijing-based expert believes China is not willing to get involved in another Korean War, which is known as the "War to Resist US Aggression and Aid Korea."
"One thing is for sure. The situation has changed. Bilateral relations between China and North Korea today are completely different from the 1950s. The Cold War has finished. The Communist bloc has disintegrated. Personally, I think it's absolutely impossible for China to get involved in a second war to 'resist US aggression and aid Korea'," Zhang said.
He added that China would probably try to assert itself and ensure its interests in handling the aftermath of any military conflict on the Korean peninsula.
No Harsh Criticism of US
Chinese political experts pointed out that, unlike previous instances when the United States made military threats toward North Korea, China refrained from harshly criticizing possible US military actions against Pyongyang.
"China has mostly tried to rein in North Korea, especially supporting the tougher economic sanctions from UN Security Council. Although China doesn't agree with Trump's rhetoric of waging war, Beijing did not openly criticize the United States. It did not use the same language as it told Pyongyang before, which is 'China would never agree to someone starting a war at its doorsteps.' In general, China's reaction has been rather mild," Shi Yinhong, a professor of international relations at the Renmin University in Beijing, told Sputnik.
Members of the United Nations Security Council, including the United States, China and Russia, unanimously approved new sanctions against North Korea on August 5 that could cut the nation's annual export revenue by $1 billion.
Shi added that there is little room for diplomatic solutions to the current crisis on the Korean Peninsula if the precondition for negotiations is to ask North Korea to give up its nuclear arms program.