MOSCOW (Sputnik) – Serbia expects that the MiG-29 deliveries will happen right on time, the minister noted.
"All administrative things are in order, some more duties we have to fulfill and we will do this of course. The Russian side is very correct, everything they say they deliver and we are very grateful for that of course, so I don't see any problems in the future, now between friends that kind of problem cannot emerge. We are very grateful to [Russian President Vladimir] Putin for that, that is one of the ways he shows his appreciation and support for Serbia and his personal link to President [Aleksandar] Vucic," Vulin added.
Belgrade will require Russia's experience in training and military education, as well as support in pilot training upon the completion of Russian deliveries of MiG-29 Fulcrum fighter jets to Serbia, Vulin told Sputnik.
"There are few of our needs, especially about training and military education- that's something that we can learn. When we receive MiG-29 [fighter jets], we will need support with training of our new pilots," Vulin said during his official visit to Moscow, asked about future cooperation with Russia and what experience Serbia wanted to acquire from Russian colleagues.
The Serbian minister added that the number of Russian-Serbian joint military exercises for the following year had not been agreed on so far, as it was tied to the country's budget, as well as the three-year and five-year military cooperation plans, on which the two countries were working on.
"Not yet, I think [the three-year and five-year plans will be ready] by the end of the year. Because it is close with our budget and we will see how it goes. One important thing that you should know about our army – what we say we deliver. So we are very, very cautious when we agree about something – number of military exercises, of education, military training must be fulfilled 100%. So we are very cautious with that, because we speak with our partners in the Russian army and I am sure they are very much satisfied. [Key provisions of the documents] are too early to tell," Vulin explained.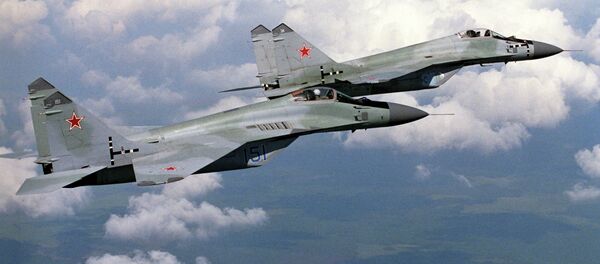 Russia was
set to deliver six MiG-29 to Serbia
this May. Moscow is set to finalize deliveries of MiG-29 jets to Serbia by the end of 2017.
In November 2016, media reported that Moscow had made a decision to supply Belgrade with six fighter jets. In December, the Russian Federal Service for Military-Technical Cooperation (FSMTC) Deputy Director Anatoly Punchuk said that the aircraft could be delivered in spring 2017 as part of a military and technical cooperation assistance program between the two states.
The MiG-29 fighter jets, developed in the Soviet Union in 1980s, are currently used in 29 countries across the world.
The T-72 is a Soviet second-generation main battle tank developed in the early 1970s and widely exported across the globe. This tank is still in service in about 45 states.
The BRDM-2 is an amphibious armored patrol car developed in the early 1960s and it is still operational in at least 38 states.