BEIRUT (Sputnik) — A Syrian army unit has successfully landed in the Daesh rear on the border of Homs and Raqqa provinces and freed several villages during the operation, a Syrian military source told Sputnik on Saturday.
"The Syrian army and allied forces are successfully advancing in the Syrian desert. The night landing around 20 kilometers [12.5 miles] into the IS-controlled territory to the south of the al Qadr settlement on the border of Homs and Raqqa provinces was carried out. And [the Syrian forces] have advanced 21 kilometers further and liberated the settlements of Hurbet Mekman and al-Qadr," the source said.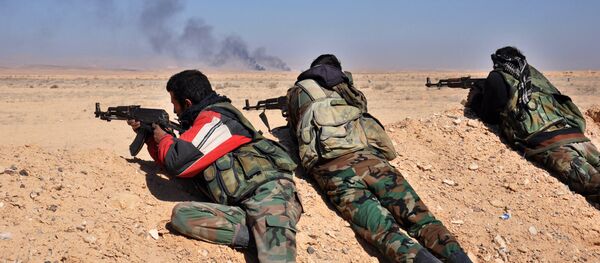 10 August 2017, 08:27 GMT
According to the source, the soldiers of the Syrian army also moved 12 kilometers to the south-east of Raqqa and liberated a village there, eliminating a large number of terrorists and destroying three tanks, 13 vehicles equipped with machine guns, seven car bombs and also seized two Daesh tanks and some units of artillery systems of different caliber.
Earlier the day, a source told Sputnik that Syrian armed forces managed to secure the largest Daesh hotbed in Homs and the last significant citadel of terrorists on the way to the besieged city of Deir ez-Zor.