ANKARA (Sputnik) — Turkish President Recep Tayyip Erdogan said Saturday that tension with Europe was caused by European domestic politics and he believed the relations between Ankara and Germany would improve after the Bundestag election this fall.
"Criticism from Europe is about their internal politics. Earlier, it was in France and Austria, and now we see that Germany also follows the same strategy. I believe that this situation will improve after elections," Erdogan said in a speech in the western city of Isparta broadcast by NTV channel.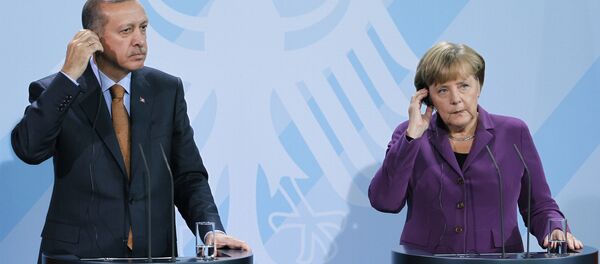 The relations between Ankara and Berlin have been deteriorating for some time over a number of issues, with the most recent blows hitting in July, after German Foreign Minister Sigmar Gabriel promised to review Berlin's policy toward Turkey due to the detention of six human rights activists in Ankara on July 5, including Amnesty International's Turkey director Idil Eser and German human rights activist Peter Steudtner, under the suspicion of assisting a terrorist group.
On September 24, German citizens will head to the polls to elect their new government.