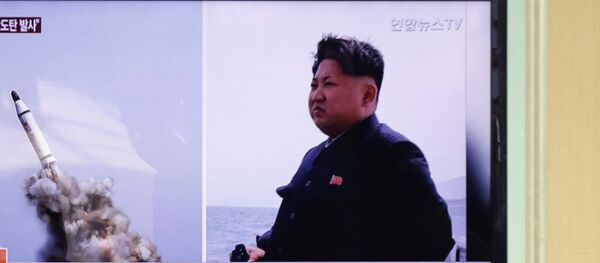 13 August 2017, 14:19 GMT
MOSCOW (Sputnik) — The situation around the nuclear issue of the Korean Peninsula is being played out like an internal policy map of the United States, Russian Foreign Ministry spokeswoman Maria Zakharova said.
"You can see what is going on inside the United States, how big fight is going on there, and [the fight] is very lengthy, not in terms of the past but in terms of the future — [it is the fight] for the White House… It is necessary to escalate some story in the country, to speak about their potential steps, maybe, realize them subsequently. Obviously, the story around North Korea, the nuclear program of the Korean Peninsula as a whole, is now being enacted like a US internal policy map," Zakharova said during a TV show at Rossiya 1 channel.
Zakharova added that the possible US military action against North Korea would have large-scale consequences affecting the regional states as well as other countries.
"All the countries in the region will be affected, and not only in the region… If the military scenario would be implemented, and if everything goes the way Washington establishment representatives have threatened, the situation will be just catastrophic," Zakharova pointed out.
The tensions around North Korea have been high over recent months and escalated further after the tightening of economic sanctions against North Korea by the United Nations Security Council (UNSC) on August 5 in response to July's launches of ballistic missiles by Pyongyang.
The move prompted harsh criticism from Pyongyang which subsequently vowed to use any means possible to retaliate against the United States after the UNSC approved the new US-drafted sanctions. US President Donald Trump in turn, warned, that North Korea's possible actions would be met with "fire and fury" from the United States. Following the statement, Pyongyang said it considered an attack near the Pacific island of Guam where several US military bases were located.
The White House said in a statement on Saturday, that Trump had held a phone conversation with his French counterpart Emmanuel Macron, stressing that the United States was ready to apply all available measures, including the military ones, to settle the North Korean nuclear issue.