MOSCOW (Sputnik) — Haftar and Lavrov met earlier in the day in Moscow.
"Yes, we discussed it [the issue of military aid]. I am sure Russia remains a good friend of ours and will not refuse to help," Haftar told reporters.
It is the third visit of the Libyan National Army commander to Moscow. He held a meeting with Russian Defense Minister Sergei Shoigu in June 2016 and a meeting with Lavrov in November 2016, during which Haftar already asked Russia for military aid supplies in order to fight against the Islamists.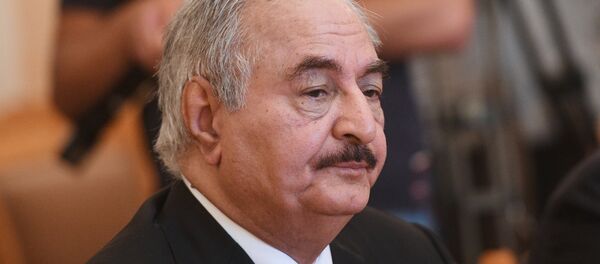 14 August 2017, 10:03 GMT
Libya has been in turmoil since the 2011 civil war that resulted in the overthrow of country's longtime leader Muammar Gaddafi.
The eastern part of the crisis-torn state is governed by a parliament with headquarters in the city of Tobruk. The parliament is backed by the Libyan National Army headed by Haftar. At the same time, the Government of National Accord, headed by Prime Minister Fayez Sarraj and backed by the United Nations and the European Union, operates in the country's west and is headquartered in Tripoli.
Moscow has been providing support for the regulation of the crisis in Libya and has repeatedly said it was ready to cooperate with all the interested Libyan parties.