TOKYO (Sputnik) — South Korean President Moon Jae-in said Monday that a new war on the Korean Peninsula would be unacceptable, stressing that the alliance between Seoul and Washington was aimed foremost at defending peace in the region.
"I say this again with a strong emphasis. The national interest of the Republic of Korea comes before anything else. The national interest of the Republic of Korea is peace… We cannot have a war on the Korean Peninsula ever again," Moon was quoted as saying by the Yonhap news agency.
The president stressed that the South Korea-US alliance was based on "defending peace," adding that both countries agree that the North Korean nuclear and missile issues should be resolved peacefully under all circumstances.
"The government will cooperate with the United States and other key countries and make every effort in order to ensure that this situation does not develop into a serious crisis. We will safeguard peace and stability on the Korean Peninsula… If North Korea makes the right decision, we will work together [with Pyongyang] to ensure the bright future of our nation by significantly expanding and improving inter-Korean exchanges," Moon said, stressing that peace on the Korean Peninsula could be achieved only through negotiations, and not by force.
The South Korean leader also warned the North against escalating the situation by making further provocations and threats.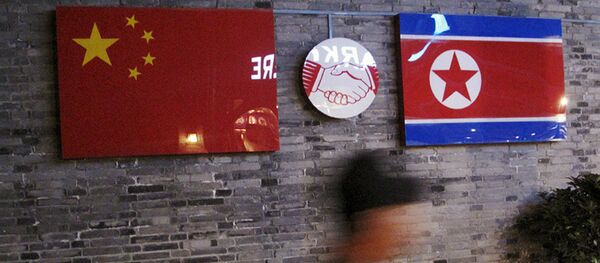 14 August 2017, 09:06 GMT
Tensions with North Korea have escalated after
the tightening of the economic sanctions
against the country by the United Nations Security Council (UNSC) on August 5 in response to Pyongyang's July launches of ballistic missiles.
The North Korean leadership vowed to use any means possible to retaliate against the United States after the UNSC approved the new US-drafted sanctions. President Donald Trump, in turn, warned, that further threats or action by North Korea would be met with "fire and fury" from the United States. Following the statement, Pyongyang said it is considering an attack near the Pacific island of Guam, where several US military bases are located.