MOSCOW (Sputnik) – Lavrov added that while the situation in Libya remains complicated, actions are being undertaken in order to reach national a political solution.
"Unfortunately, the situation in Libya remains difficult, the threat of extremism has not been overcome in your homeland. However, we know about the actions which are being undertaken and actively support the tendency of intensification of political resolution processes, the full-scale restoration of the statehood of your country," Lavrov said at a meeting with Khalifa Haftar, the head of the Libyan Natonal Army.
Russia supports the intention of Libyan National Army Commander Field Marshal Khalifa Haftar to reach an agreement with Prime Minister of the Libyan Government of National Accord Fayez Sarraj, Lavrov said.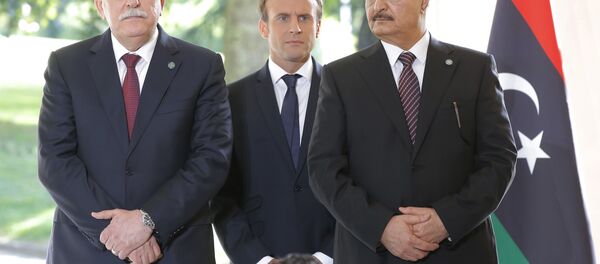 "We are aware of the efforts being made with your participation, with the participation of Sarraj, which are aimed at ensuring generally acceptable agreements on optimal ways of implementing the Skhirat agreement," Lavrov told Haftar. "We support your set towards reaching such agreements," he added.
All mediation efforts in Libya should be carried out on the basis of the United Nations, Lavrov said.
"We believe that it is very important to focus all mediation efforts and ideas on the political front on the basis of the activities of the United Nations."
12 August 2017, 15:14 GMT
According to Lavrov, Moscow sees such activities "not as aimed at development of solutions, but as a contribution to the most favorable conditions for a dialogue between key figures in Libya, so that they themselves agree on the future of their country."
"This is our principled stance," the minister said.
Libya has been suffering from a civil war since 2011 when long-time leader Muammar Gaddafi was overthrown. The country's eastern regions are governed by the elected parliament headquartered in the city of Tobruk. Besides, the Government of National Accord, formed with the support from the United Nations and Europe and headed by Fayez Sarraj, operates in the country's west, including the Libyan capital of Tripoli.
The eastern authorities act independently from the west, cooperating with the National Army led by Haftar, which fights against Islamist terrorists.
Moscow has been providing support for the regulation of the crisis in Libya and has repeatedly said it was ready to cooperate with all the interested Libyan parties.