Passenger Ferry
The Rason Special Economic Zone was established in 1991 on the border with China and Russia. It consists of two cities: Rajin and Sonbong. North Korea is actively attracting investments from China to this zone, mainly for the construction of hotels. A trip to Rason is visa-free for foreigners; this is one of the reasons why it is cheaper traveling there than to other cities of the DPRK.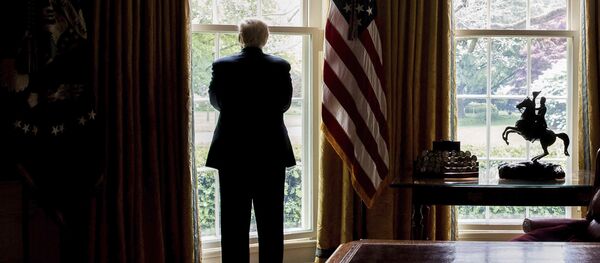 Since May 2017, a North Korea ship, the Man Gyong Bong, has been operating on a route between the Russian city of Vladivostok and DPRK's ice-free port in Rason. Now tourists from Russia can reach the North Korean city by sea, where they can enjoy local sights, climb Mount Sahyan and see monuments dedicated to North Korean leaders.
© Sputnik / Svetlana Zadera
Hotel "Rajin"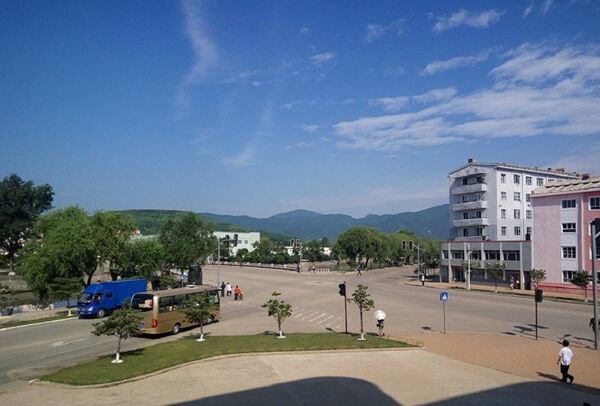 Hotel "Rajin"
© Sputnik / Svetlana Zadera
Tourists can take five-day tours to Rason for the price of 27,000 rubles (about US $450); a one-way voyage takes about 12 hours. All personnel on the ship are North Korean; most of the signs on the boat are in Korean. A restaurant offers Korean cuisine and famous local-brewed Taedonggan beer.
North Korean customs officers inspect tourists arriving on the ship with manual metal detectors. During the procedure of customs clearance, tourists declare cameras, tablets, phones and flash drives, as well as books and magazines (including total number of pages). All these things will have to be presented when leaving the country, and therefore can't be thrown away.
Watching Closely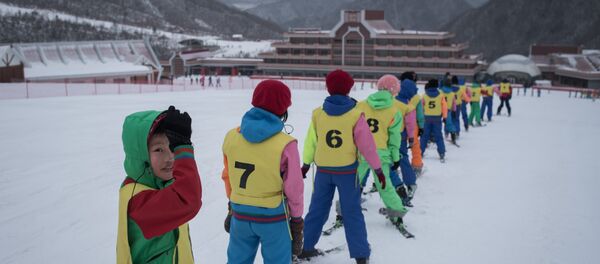 Guides accompany their groups of tourists during all excursions, trips to shops, breakfasts, lunches and dinners. Going out to the city independently, without a guide is not allowed. Such tight control is not due to fear that tourists will see or take pictures of something "forbidden"; this is for the tourists' safety. "If something happens to tourists, all the media will write about it, the whole world will talk about it," one of the guides explained.
There is one mobile operator in North Korea; SIM cards of foreign mobile companies don't work there. Tourists can buy a card to use mobile communication; however, mobile internet is not available in this country. Residents are used to learning about news from newspapers, radio and TV.
Foreigners in the DPRK are prohibited from photographing the local population without a guide's permission. Also, it is forbidden to buy and export local currency — the Korean People's Won — from the country. Tourists are welcome to pay with Chinese yuan, US dollars and euro.
Island With Seals and the Most Expensive Hotel
Russian tourists spend one night of the five-day tour in "Rason," a new hotel in the center of Rajin. It has spacious triple rooms with plasma TVs, music centers and water heaters.
© Sputnik / Svetlana Zadera
Pipha Island and stone reefs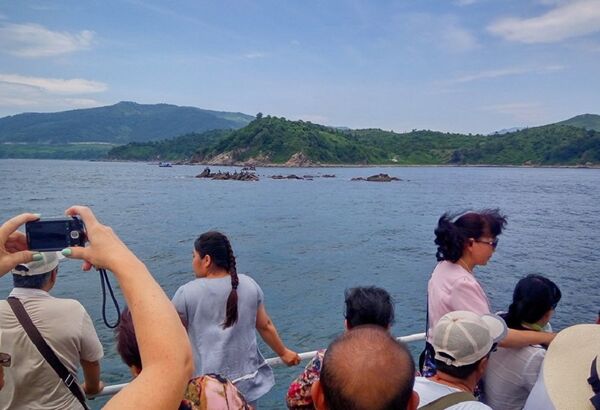 Pipha Island and stone reefs
© Sputnik / Svetlana Zadera
In the morning, the group is taken to one of the main local attractions — Pipha Island, which is home to largha seals, also known as spotted seals. There is also a small recreation center with souvenir shops, ice cream bars and cafes with live seafood.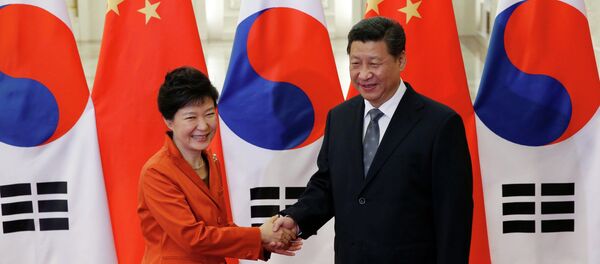 Souvenir shops sell wooden utensils, jewelry made of stone, medicine and seafood. A wooden plate can be bought for 500 rubles (about $8), a bracelet made of stone for 1,300 rubles (US $22) and a half-kilogram of dried sea cucumbers, or trepan,  for 16,000 rubles (US $267).
The most expensive hotel in Rajin, the "Emperor," is situated on the beach near the island of Pipha. According to guides, the famous actor Jackie Chan invested in its construction.
© Sputnik / Svetlana Zadera
Hotel "Imperator"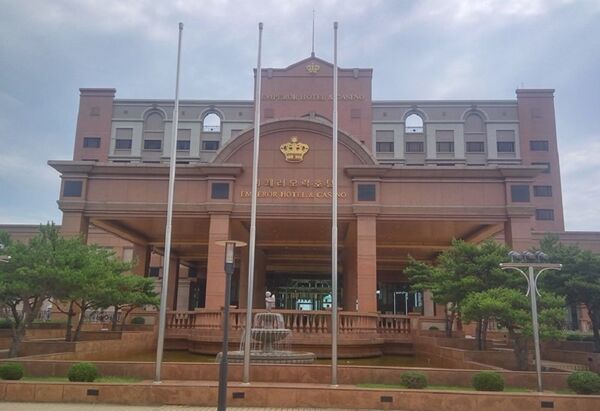 Hotel "Imperator"
© Sputnik / Svetlana Zadera
Tourists can take a tour of the hotel, which is popular mostly among guests from China. On average, the room will cost almost 9,000 rubles (US $150) per night. The hotel has restaurants, shops, a swimming pool, a bar, a gym and a small casino with poker tables.
"No Entry Beyond This Point"
After the tour, the group is brought to another small three-story seaside hotel "Golden Coast" on a fenced territory. On one side of the hotel there is a forest, on the other — rice fields with several peasant houses and a fishing village. If tourists come close to the fence, locals stop what they are doing and watch them.
© Sputnik / Svetlana Zadera
Hotel "Golden Coast"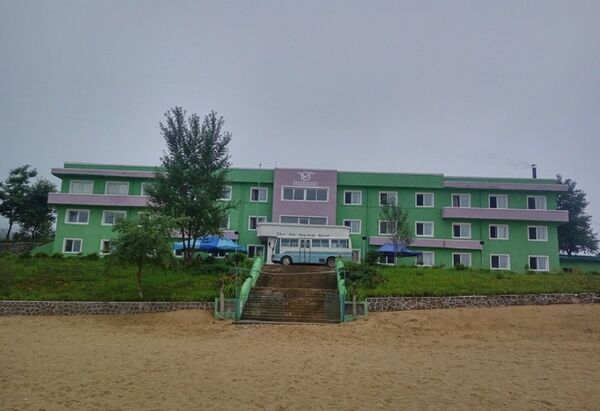 Hotel "Golden Coast"
© Sputnik / Svetlana Zadera
There are people in camouflage on the territory of the hotel. "You can't go beyond the fence, military personnel can misunderstand you," guides warn.
Tourists are lodged in triple rooms overlooking the sea. There is a restaurant and a hall with a billiard table at the disposal of the hotel guests. On Sunday, which is the only day off in the DPRK, residents of Rajin and Chinese tourists can be seen on the beach in front of the hotel.
Mount Sahyan and Trees in Glass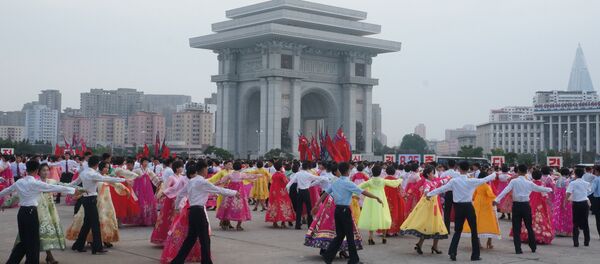 20 February 2017, 17:34 GMT
Mount Sahyan in the vicinity of Rajin is another important tourist attraction. There, during World War II, Korean partisans opposed the Japanese Army.
The mountain has a well-maintained stone path for climbers. Along the way, tourists pass by trees covered with glass shells and canvas covers. For North Koreans, these trees are a national heritage, the guides explain. These trees have revolutionary slogans written on them, which can only be seen on public holidays. Students and residents of the city come to these trees as if they were monuments to pay tribute to their ancestors.
© Sputnik / Svetlana Zadera
Mount Sahyan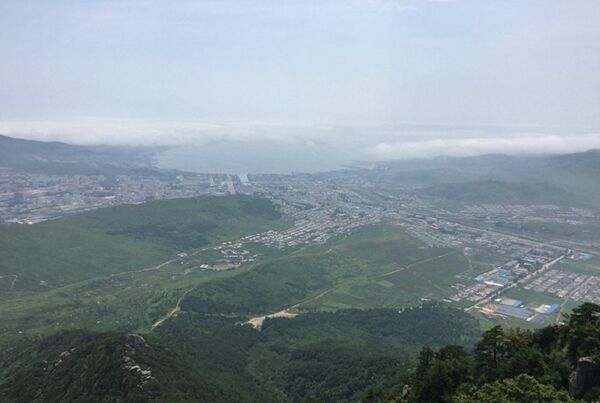 Mount Sahyan
© Sputnik / Svetlana Zadera
According to the guides, military personnel tried to protect the trunks of these trees with their bodies during a fire in the forest several years ago. More than 10 people were killed then; the graves of the victims are now in Pyongyang.
At the top of the mountain, there is an observation deck with a monument to "the great leader, Comrade Kim Il-sung" and "Comrade Kim Jong-suk," his first wife.
First Fishing Village and Gifts for Children
Rajin also preserved a place where one of the first fishing villages used to be. Only two houses are left there, a fisherman's and a peasant's home. These houses are shown to tourists only from the outside, as they are still inhabited by their descendants. "General Kim Jong-il visited this house," reads the inscription on the fisherman's house.
© Sputnik / Svetlana Zadera
Fishing village in Rajin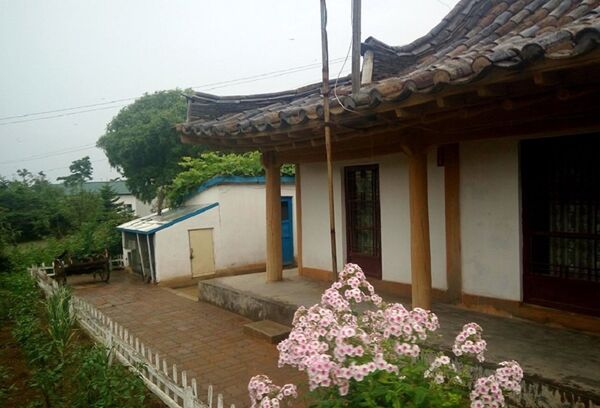 Fishing village in Rajin
© Sputnik / Svetlana Zadera
A tall monument dedicated to the leaders Kim Il-sung and Kim Jong-il graces the central square of Rajin. "The height of this monument equals our people's respect for the great leaders," the guides explain.
This is the most solemn part of the excursion program: tourists stand in a row in front of the monument; mobile phones and tablets should be removed. Photos can be taken only via cameras, and the monument must be seen in the frame entirely.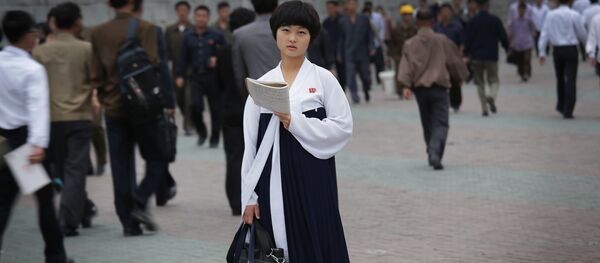 22 October 2016, 08:42 GMT
Near the monument, there is a city theater, where children perform almost every day. This is an obligatory part of the tourist program. A ticket for the concert is included in the tour price, but tourists need to bring gifts for the children. "If you didn't bring gifts with you, you can buy them in the store right in the theater," guides advise tourists before the concert.
About 500 spectators gather in a concert hall, mostly tourists from China. Children from 4 to 7 years old sing, dance and show acrobatics. After the concert, the children line up in several rows onstage for a photograph with tourists. Gifts can't be handed to children directly: guests put them behind the curtains on the stage.
© Sputnik / Svetlana Zadera
North Korea souvenirs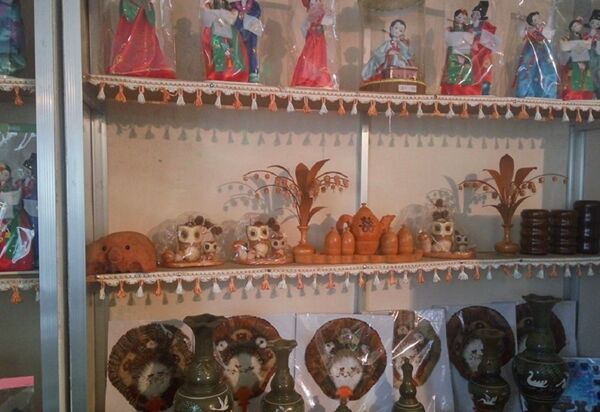 North Korea souvenirs
© Sputnik / Svetlana Zadera
The Only Market Where Tourists Are Allowed
A market in Rajin is the only one in the DPRK where tourists are allowed to go. It starts work only at 3 o'clock in the afternoon and closes at eight in the evening. Crowds of local people gather near it a few hours before the opening. You can't take pictures in the market: "Even if you carefully take a picture, the residents will notice that and tell. We have very conscious people, they understand that this can't be done," guides explains.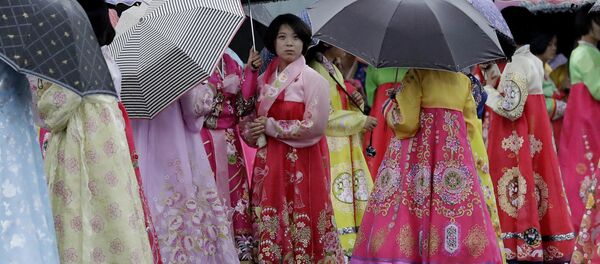 The market consists of several brick buildings, where one can find almost anything, from houseware to food. You can find there bottles of American coke and oil produced in Russia. Local cooks also sell their products on this market.
Tourists are brought to the port a few hours before the departure of the ship. Customs officers check all things and souvenirs; all devices and flash drives must be handed over for clearance. If a tourist has photographed something forbidden, the photos will be deleted.