MOSCOW (Sputnik) — Early on Sunday, Istanbul counterterrorism police arrested a man suspected of preparing a bomb attack, later taking him to Istanbul Police Headquarters. The suspect used a knife to attack one of the police officers, who was taken to a hospital where he eventually succumbed to his injuries. The suspect was shot dead by other police officers.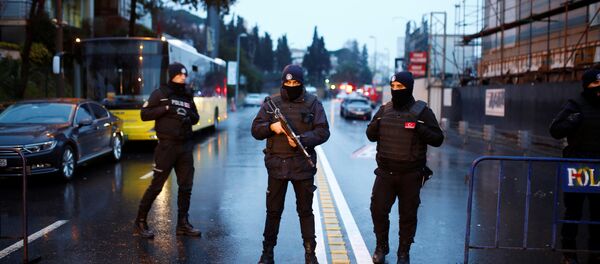 14 August 2017, 03:22 GMT
According to the Daily Sabah newspaper, security forces raided many addresses in two districts of Istanbul and arrested 12 Daesh suspects. Those detained are being held in custody in one of the city's police stations.
Over the past few years, Turkey has been hit by a series of deadly terrorist attacks committed by the Daesh, including the assault on the Reina nightclub in Istanbul on January 1, which resulted in the deaths of 39 people, including over 20 foreigners. The country's security forces have made attempts to prevent attacks by carrying out a massive anti-terror operation, with new suspects being detained each week.