MOSCOW (Sputnik) — The number of people who are still missing as a result of the deadly mudslides that hit Sierra Leone on Monday amounts to some 600 people, the International Federation of Red Cross and Red Crescent Societies (IFRC) said in a press release on Tuesday.
"At least 260 people have been recovered. However, with 600 still missing, this figure is likely to increase. An estimated 3,000 or more people are believed to have lost their homes and are in immediate need of emergency assistance and shelter," IFRC said.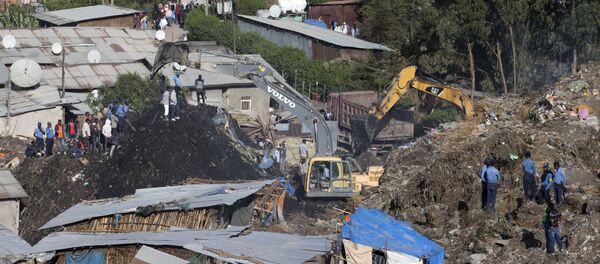 14 August 2017, 12:33 GMT
According to the press release, nearly $280,000 were allocated from the IFRC Disaster Relief Emergency Fund to bolster search and rescue and recovery efforts.
"These emergency funds will enable volunteers to assist more than 9,000 people with search and rescue, first aid, health care, water, sanitation and hygiene promotion and emergency food," IFRC said.
Earlier media reported that over 350 people were killed and about 2,000 lost their homes as a result of huge floods in Sierra Leone and a mudslide in the town of Regent, located near the capital of Freetown.