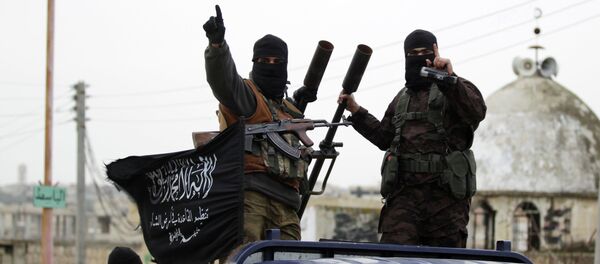 11 August 2017, 17:11 GMT
In late July, Hayat Tahrir al-Sham (HTS), the jihadi coalition led by al-Qaeda affiliate Jabhat Fateh al-Sham (also known as the al-Nusra Front), seized Syria's Idlib area along the border with Turkey's Hatay province.
It captured more than 30 locations in the July 18-24 clashes, expelling Ahrar al-Sham, an opposition group aligned with Turkey and Qatar, from the city of Idlib and the surrounding region.
Ankara signaled that a new military operation might be in the works for this part of Syria. On Friday, Prime Minister Binali Yildirim said that his country is taking all "necessary measures" to defend its national interests and right to sovereignty and security, adding that Turkey would not let any "artificial states" appear on its borders, especially in Iraq and Syria.
Sputnik Turkiye discussed the matter with Oytun Orhan, an expert of the Ankara-based Center for Middle Eastern Strategic Studies (ORSAM), to determine the likelihood of Turkey launching a new operation in this part of Syria.
The expert pointed out to Sputnik that during talks in Astana, Turkey had undertaken the responsibility of separating "radical" Syrian separatist groups in Idlib from "moderate" ones.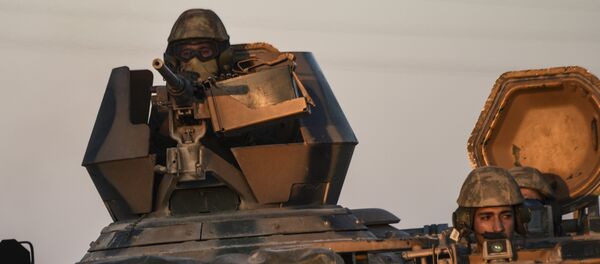 12 August 2017, 07:03 GMT
"Turkey vowed to eliminate radical groups affiliated with al-Nusra. We saw that al-Nursa, while having united with a number of other groups under the name of Hayat Tahrir al-Sham (HTS),  started to clash with the 'moderate opposition', which supports the negotiation process in Astana," he said.
This situation, he explained, demonstrated that Idlib has turned into an emirate of al-Qaeda. Amid these conditions, many countries. especially the US, have started viewing it as a pretext for a military intervention in Idlib.
Oytun Orhan, however, said why he thinks it is highly unlikely that Turkey plans to launch a new military operation in this part of Syria.
"We do not see any preparation for such an operation or any deployment of servicemen and equipment. It seems to be a highly risky venture, as it is a mountainous area, with a heavy presence of al-Nusra militants. Consequently, Turkey might consider closing its checkpoints for a certain period of time to be able to strengthen the "moderate" rebels and weaken al-Nusra fighters," he said.
The expert, however, did not rule out an aerial operation in parts of Syria not affected by the recent ceasefire agreement with Russia, which pertains to the so-called de-escalation zones.  He also suggested that the Turkish military might launch a joint operation with the Syrian "moderate" opposition forces against al-Nusra. However, he said, due to certain risks, it won't happen in the nearest future.
Oytun Orhan also commented on the recent announcements that the situation in Idlib had caused the US "grave concerns." 
Earlier in August, the US warned that a takeover of rebel-held northwestern Idlib province by Syrian jihadists linked to the former al Qaeda affiliate "would have grave consequences and make it difficult to dissuade Russia from renewing bombing that recently stopped," according to Reuters reports.
The agency quoted  an online letter posted by the top State Department official in charge of Syria policy, Michael Ratney, which said that "the recent offensive by Hayat Tahrir al-Sham, spearheaded by former al-Qaeda offshoot al-Nusra Front, had cemented its grip on the province and put the future of northern Syria in great danger."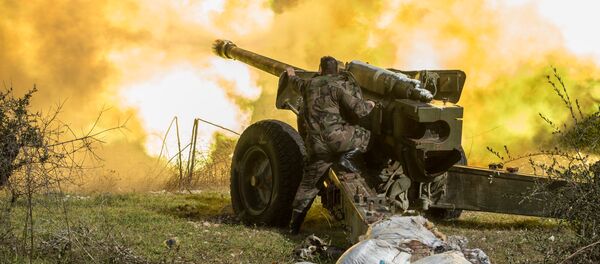 11 August 2017, 16:48 GMT
"In the event of the hegemony of the al-Nusra Front in Idlib, it would be difficult for the United States to convince the international parties not to take the necessary military measures," the top State Department diplomat said.
"I am absolutely sure that in such a situation, Turkey should prevent the West from using al-Qaeda activities in the region as a pretext for the implementation of its plans and geopolitical projects," Oytun Orhan told Sputnik.
He further elaborated that there is no American military presence in this area, therefore the US could launch an operation with the use of missiles, launched from sea, or an aerial operation. In this case it should be agreed upon with Russia. The main issue, however, is which group will be used for the ground operation.  The aerial attacks with the use of missiles will bring certain tactical result, but won't achieve any strategic changes, he said. There should be a ground operation.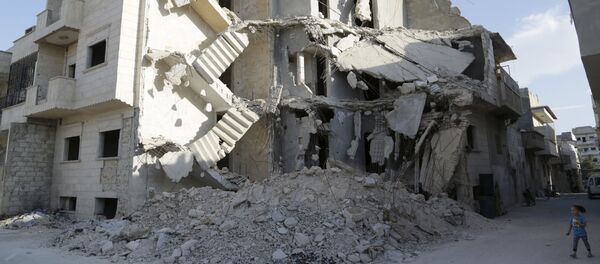 11 August 2017, 16:02 GMT
The expert further noted that only Kurdish People's Protection Units (YPG), which are deployed in 
the Syrian city of Afrin
, are able to launch such a ground operation, but that Turkey won't allow this to happen.
"For Turkey, such announcements of the US are of a very high risk as Ankara is concerned that the US, using al-Qaeda presence in the region as a pretext, will make an attempt to invade Idlib. In such a situation, Turkey will be obliged to take the initiative into its hands to weaken and eliminate al-Qaeda fighters in the area," he told Sputnik.
Oytun Orhan also noted that Turkey is closely cooperating with Russia on the situation in Idlib. The two countries are defining the borders of the so-called de-escalation zones, which are free of any military activities. Turkish and Russian military are cooperating in monitoring the ceasefire in these areas.  In case of further cooperation in these areas, Turkish invasion might become more likely, the expert said. Russia will be against the US military invasion, he suggested.
However if Turkey and Russia won't come to any agreement and the above mentioned territories will come under the control of al-Nusra, Russia might then opt for military initiatives with the US, which will come as a grave concern to Turkey, he finally said.