Multiple types of aircraft have been experiencing crashes, the most recent being an August 5 incident in Australia where three Marines died after a MV-22 Osprey crash, and the most devastating being a June 10th KC-130 tanker/transport crash in Mississippi that left 16 Marines dead.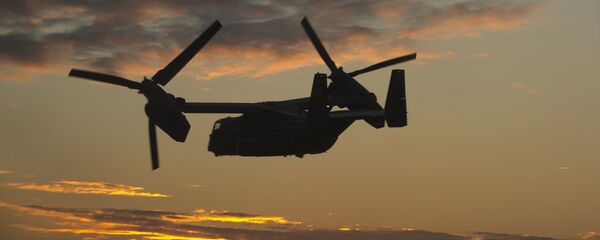 11 August 2017, 01:18 GMT
A Royal Australian Navy survey ship located the Osprey in Shoalwater Bay off Queensland. The craft had taken off from the USS Bonhomme Richard to conduct routine operations.
"This operational reset will occur within the next two weeks and will be taken at the discretion of commanders, based on their unit's operational commitments, to focus on the fundamentals of safe flight operations, standardization, and combat readiness," Neller said in a statement, "The intent is for flying squadrons to review selected incidents which occurred enterprise-wide and study historical examples of completed investigations in order to bring awareness and best practices to the fleet."
A year ago, last August, there was another stand down following three incidents of aging F-18 Hornet fighter jets crashing, according to Breaking Defense.

Rep. William "Mac" Thornberry (R-TX), chairman of the House Armed Services Committee, said at the time that a "readiness crisis" was to blame for the deaths. 
Defense Budget Hawks like Thornberry have worked to raise the caps on military spending enacted by the Budget Act of 2011, which he and his allies believe are to blame for insufficiently trained pilots, more breakdowns due to maintenance funds being cut and saddling the military with aging aircraft as funds for new equipment aren't available.
"Washington has asked our military to do too much with too little for too long," Thornberry said in a statement about the impending stand down. "As threats continue to grow, Congress must act as soon as possible to provide our military with all of the resources they need to repair what can be fixed and replace what cannot be repaired. It would be immoral to continue to use military funding as political leverage in the face of such striking evidence that our military is in a crisis that is partly of our own making."