WASHINGTON (Sputnik) — The United States is requesting key nations in South America to join an international effort to isolate North Korea in an attempt to halt the nation's development of nuclear-tipped missiles, Pence said in a speech following a meeting with Chile President Michelle Bachalet on Wednesday.
"The United States places great importance on the ongoing isolation of the Kim [Jong Un] regime and we strongly urged Chile today, and we urge Brazil, Mexico and Peru to break all diplomatic and commercial ties to North Korea," Pence said in the Chilean capital of Santiago.
​The tensions between Washington and Pyongyang got to the critical point after UN Security Council had passed new sanctions against North Korea, the harshest to the date. The sanctions could cut the nation's annual export revenue by $1 billion, or an estimated one-third of its annual foreign exchange earnings.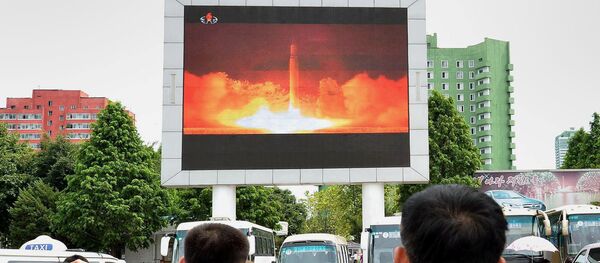 16 August 2017, 11:38 GMT
US President Donald Trump warned Pyongyang earlier in July of "
fire and fury
" if it doesn't stop its provocations. North Korea then said it was considering a
missile attack
near the US Pacific territory of Guam. However, after weeks of posturing, North Korean leader Kim Jong Un has pulled back on his threat to test fire ballistic missiles off the coast of Guam.
The situation on the Korean Peninsula has become aggravated in recent months due to a series of missile launches and nuclear tests conducted by Pyongyang, all of which are claimed to be in violation of UN Security Council resolutions.