LONDON (Sputnik) – Syrian Deputy Foreign Minister Faisal Mekdad alleged earlier in the day that Chemring Defence could be involved in supplying terrorists with toxic agents.
"Chemring Defence doesn't manufacture chemical weapons or components that can be used in anything like that, so I suggest you might want to check your source to see if they know what they're talking about," the spokesperson said.
Mekdad explained that CS and CN substances that were found in Aleppo and Damascus are allegedly produced by Chemring Defence and US company NonLethal Technologies.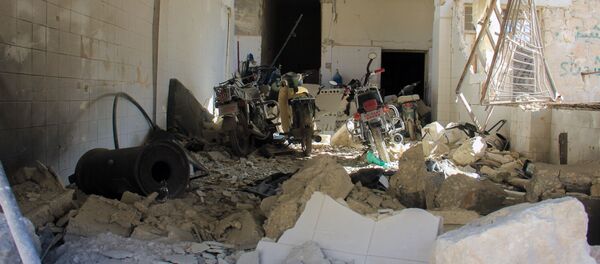 16 August 2017, 09:19 GMT
Russian Foreign Ministry spokeswoman Maria Zakharova said the fact that the United States and the United Kingdom could have supplied toxic agents to militants in Syria is "
beyond understanding
."
The Organization for the Prohibition of Chemical Weapons said in June that its fact-finding mission confirmed that man-made chemical sarin, a gas used as a chemical weapon, was used in an attack on Khan Shaikhoun in Idlib in early April, but did not determine who was responsible.
The US-backed militias blamed the use of chemical weapons on the Syrian government, despite Syrian President Assad told Sputnik following the attack in April that there was no chemical weapon attack in Idlib.