DAMASCUS (Sputnik) – The relaunch of the Damascus International Fair after the break for war years means the beginning of recovery of the Syrian economy from the war-caused crisis, the country's Industry Minister Ahmad Hamo told Sputnik Thursday.
The 59th Damascus International Fair started in the Syrian capital on Thursday for the first time since the armed conflict began in the country in 2011.
"The relaunch of the exhibition after the break for the war years means the returning of life back on the economic track, which requires the mobilization of the manufacture facilities for launching the process of restoration of the country and the industrial manufacturing," Hamo said.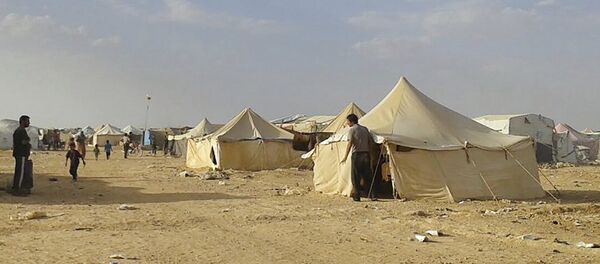 25 January 2017, 11:49 GMT
The minister added, that the participation of the representatives of both the public and private sectors of Syria's industrial manufacture sphere in the exhibition showed the vitality of this field despite the damage caused by the terrorists.
"The industrial manufacture offers the suitable prices for the internal market through its organizations and companies thus demonstrating the quality in accordance with the high state standards. This also creates the possibility for the exports of goods the demand for which is increasing in the internal market," the minister added.
The Damascus International Fair is the major and the oldest fair in the Middle East launched for the first time in 1954. Over 2,000 delegates from various countries are expected to visit the event in 2017.