MOSCOW (Sputnik) — Russia's position regarding the Iraqi Kurdistan's referendum on independence from Iraq is the best, the head of the delegation of the Supreme Council for the referendum, Rowsch Nuri Shaways, told Sputnik Wednesday, assessing Moscow's stance on the issue.
Earlier in July, Russian Foreign Minister Sergey Lavrov stated that Russia assumed that the legitimate aspirations of the Kurds should be implemented within the framework of international law. The Russian minister also expressed hope that the will of the Kurdish people would be expressed peacefully.
"Russia's position regarding the referendum is the best of all now. We have got a long-standing relationship with Russia that goes back to the times of the Russian Empire… After the fall of the regime of Saddam Hussein the relations with the Russian Federation began to develop far more actively," Shaways said.
Commenting on the expectations for the role of Moscow in the process, Shaways indicated that Iraqi Kurdistan asked Russia only for support of the region's independence. According to Shaways, several countries and international organizations intend to participate as observers in the referendum.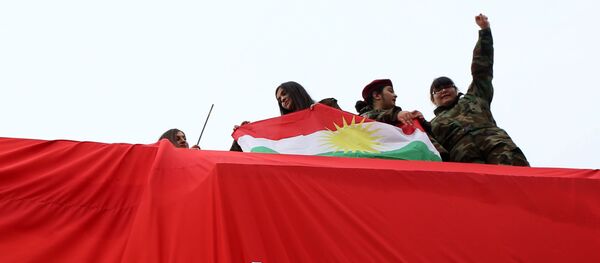 16 August 2017, 15:48 GMT
"They [countries and organizations] believe that it is their humanitarian and legal duty to provide assistance in such a democratic process as a referendum, and we hope that there will be more of them," Shaways added.
Shaways has also stated that the Supreme Council selected the date of the referendum to accommodate the need to hold the vote as soon as possible.
"When selecting the date of the referendum, we did not pursue any goal. The referendum was supposed to be organized as soon as possible… Following several discussions, the Supreme Council for the referendum decided that it was not willing to hold the referendum in two or three months. The date does not commemorate any historic event," Shaways explained.
On June 7, Iraqi Kurdistan's President Masoud Barzani announced his intention to hold a referendum on independence of the autonomous region from Iraq on September 25. The decision has been sharply criticized by both Baghdad and the United States. Brett McGurk, US special envoy to the coalition against Islamic State terrorist group (banned in Russia), said that the process was moving too fast, leaving little room for dialogue between Erbil and Baghdad.
Iran, Iraq, Turkey and Syria all have significant Kurdish minorities, but only Iraq has an official autonomous Kurdish region. The Kurds, making up about 20 percent of the Iraqi population, have been seeking self-governance for decades. In 2005, Iraq's Constitution recognized Kurdistan as an autonomous region run by the Kurdistan Regional Government.