LATAKIA (Syria) (Sputnik) – He also spoke about the situation in the de-escalation zones created in Syria following the latest round of the intra-Syrian talks in Astana.
"Today when the Syrian territory is being liberated from terror groups, more and more members of the opposition are understanding the need for the end of the civil conflict and launching the political settlement," Lt. Gen. Sergei Kuralenko said in a televised address to Syrians on Thursday.
"In these areas hostilities have been ceased, Syrians are getting humanitarian aid, the reconstruction of roads has been started, conditions for refugees returning to their homes are being created. Monitoring posts manned by the Russian military police are being created around the de-escalation zones to rule out provocations of terrorists and to control the ceasefire regime," Kuralenko said.
He added that Russia together with Turkey and Iran is hardly working on creation of the fourth de-escalation zone.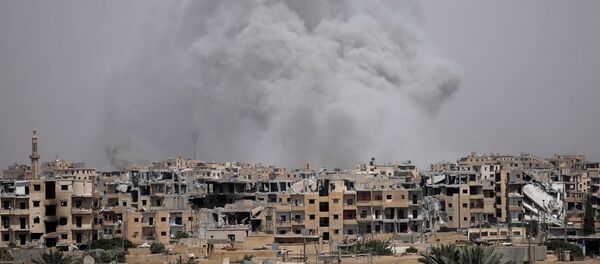 17 August 2017, 14:46 GMT
In May, Iran, Russia and Turkey — the three guarantor states of the Syrian ceasefire regime — signed during the Syrian settlement talks in Astana a memorandum on the establishment of de-escalation zones. It stipulated the creation of four de-escalation zones., and the guarantors have reached agreements with Syrian opposition groups to set up three zones, with the consultations continuing on the fourth safe zone in the Idlib province.
Syria has been engulfed in a civil war for over six years with the government troops fighting against numerous opposition factions as well as terrorist groups such as Daesh and the Jabhat Fatah al Sham, both outlawed in Russia.