PARIS (Sputnik) – A total of 26 French citizens were hurt in Thursday's van attack in Spain's Barcelona, with at least 11 of them receiving serious injuries, the French Foreign Ministry said Friday.
"My thoughts go to the compatriots as well as to their relatives to whom I express my sympathy in this painful moment," French Foreign Minister Jean-Yves Le Drian wrote in a press release.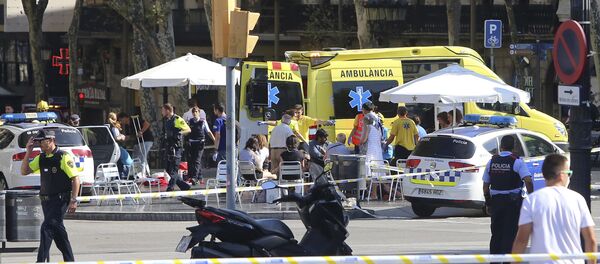 18 August 2017, 06:49 GMT
Le Drian added that he will visit Barcelona later on Friday in order to visit the French victims of the terror attack.
He noted that the Foreign Ministry received more than 3,200 calls overnight and remains open for calls.
"In Barcelona, our Consulate General together with the Spanish authorities puts everything in place to provide the necessary support to the French touched by this attack. To respond to this emergency, I asked several medical professionals to be sent. The first of them arrive today to provide psychological support and assist the families of the victims. Additional reinforcement is being previewed," Le Drian said, stressing that security of French citizens abroad is an absolute priority for the ministry.
A van drove into a crowd of pedestrians in the central Ramblas area in Barcelona on Thursday, leaving 13 people dead and over 100 injured, in what police said was an act of terrorism. The Daesh terror group (outlawed in Russia) claimed responsibility for the attack. Hours after the tragedy in Las Ramblas avenue another vehicle attack took place in the coastal town of Cambrils, south of Barcelona. Six civilians and a police officer were injured, with some of them in critical condition.