New Delhi (Sputnik) — India's largest low-cost carrier IndiGo had to cancel hundreds of its flight on Friday as American aerospace manufacturer Pratt & Whitney's (P&W) engines powering the Airbus A-320 (NEO) encountered serious technical snags.
IndiGo has grounded at least eight NEOs following consistent flaws in the engine; the last one was grounded on Wednesday this week when engine number two of the aircraft NEO (VT-ITK) failed.
"Our 8 Neos are grounded. Our schedule was planned in the month of June itself pertaining to non-availability of these aircraft for the month of July, August and September. The affected passengers have already been accommodated with suitable options," an IndiGo spokesperson said.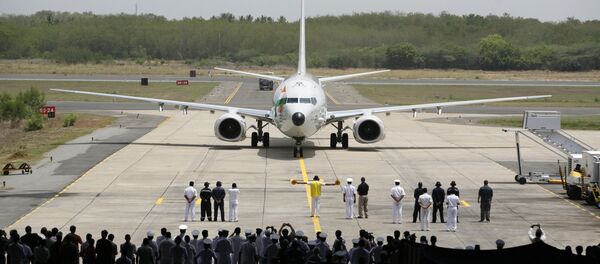 The delivery of A 320 Neo aircraft to Indian operators started in the first quarter of 2016. Subsequently, operators started facing problem with the PW 1100G-JM engine fitted on these aircraft due to wearing of bearing seal plate and combustion chamber distress.
"Both Indigo and GoAir have confirmed that these issues have impacted the delivery of aircraft. Further, national carrier Air India has also experienced delay in deliveries of some A320 Neo aircraft fitted with CFM Leap 1A26 engines by few days due to non-availability of engines at Airbus facility," Jayant Sinha, India's Minister for Civil Aviation said.
Meanwhile, Airbus has assured India's Directorate General of Civil Aviation that it would soon address the combustion chamber distress problem. "Regrettably, there have been days when we have had to ground as many as nine A320 Neo (planes) due to lack of spare engines. While we do receive certain compensation from Pratt & Whitney for these groundings, the operational disruptions are quite challenging and we are not happy with that situation," Aditya Ghosh, IndiGo president, and whole-time director had said during the post-Q1 earnings call on July 31.