MOSCOW (Sputnik) – Spain hopes to continue the joint fight against terrorism with Russia, Spanish Ambassador to Russia Ignacio Ybanez Rubio said Friday.
"Unfortunately one has to state that Spain's experience of fighting terrorism is very great and long, but it also shows that terrorism can be fought successfully. We hope that we shall continue this successful experience of fighting terrorism, and other countries will help us including Russia," Ybanez told reporters after a minute's silence outside of the embassy in Moscow, dedicated to the victims of attacks in Catalonia.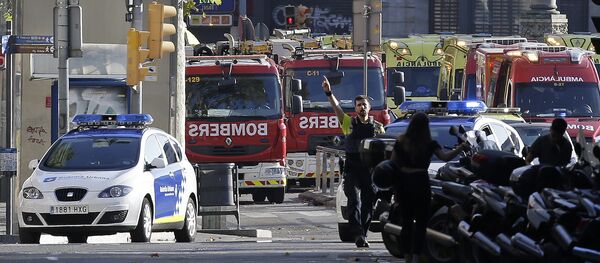 18 August 2017, 10:23 GMT
The ambassador thanked those expressing their solidarity with Spain.
"Terrorism is a global threat and it should be fought accordingly, using global means," he said.
According to Ybanez, Russia's cooperation with Spain on countering terrorism never ceased.
"Our cooperation has always been close and we are confident that we shall continue this work. And, whenever necessary, we shall be able to intensify this work," the diplomat added.
On Thursday, a van mowed down a crowd of pedestrians in the central Ramblas area in Spain's tourist resort of Barcelona, leaving 13 people dead and over a hundred injured, in what police said was an act of terrorism. The Islamic State terrorist group (IS, outlawed in Russia) claimed responsibility for the attack.
Several hours after the Barcelona tragedy, a van rammed into a crowd of passers-by in the coastal town of Cambrils 74 miles south of the Catalan capital, injuring seven people, including a police officer. A woman later died in hospital. In a following counter-terrorist operation, four attack suspects were killed and one died from wounds later.