Vladimir Putin inspires confidence in 23 countries when it comes to doing the right thing regarding world affairs, versus Trump's 13, the survey says.
Interestingly enough, in many countries which had been US allies for ages, the Russian leader dramatically outpaces Donald Trump. Countries such as Japan, South Korea and seven European NATO members — Greece, Germany, Turkey, Hungary, France, Italy and Spain — expressed more confidence in Putin.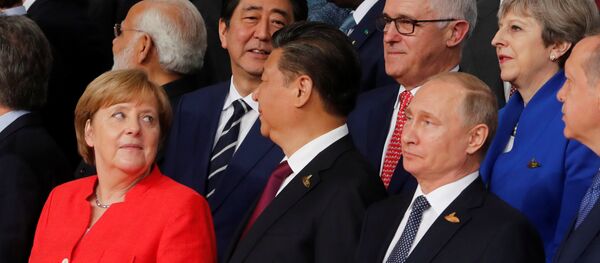 17 August 2017, 15:17 GMT
In Germany, a quarter of interviewees trusted the Russian President, while only 11 percent chose Donald Trump.
Experts say that the results could be connected with Trump's NATO policy and his accusations that NATO members are not pulling their weight.
Despite analyzing the level of trust in Russian and US leaders, the fact tank questioned if respondents see Russia as a security risk. Globally, 31 percent of people described Russia as a threat to their country; the same amount went to China and 35 per cent voted that American influence was the greatest threat.
Sputnik Radio discussed the issue with Dr. Johan Backman, a Finnish political activist and adjunct professor at the University of Helsinki, who said that the results of the survey came as no surprise to him.
"Russian President Putin is very experienced politician. He has been in power for almost 20 years and he knows what is happening in the world, and people in the world know him. The result is – he has more trust than the President of the US," he told Sputnik.
Commenting on why the US leader has less support among US allies, Dr. Backman suggested that it is related to the problem of the legitimacy of NATO.
"The problem with NATO is that it does not have any reason to exist anymore and people don't trust NATO, even Trump himself does not trust NATO. So, people in Europe, and in other countries as well, are listening to Moscow more and more; they are waiting for Moscow to solve actual problems in the international sphere," he said.
Meanwhile Donald Trump, he said, remains a very unpredictable politician; nobody knows what he is going to do tomorrow, while everyone seems to be aware what Vladimir Putin is going to do.
"President Trump has lost support among the European allies, and this is a great problem for the US and NATO. People in Europe are looking for new partners, new organizations, new solutions, and new means of cooperation.  In this respect, Russia and President Putin seem to be very reliable partners and seem to be offering much more that the US," Dr. Backman said.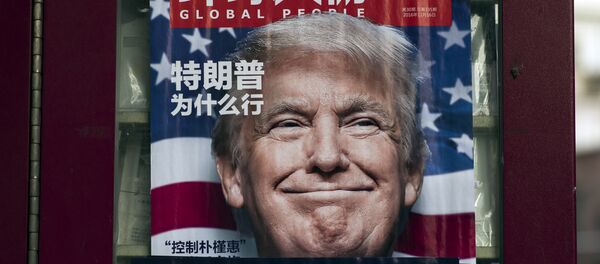 7 February 2017, 18:27 GMT
With regards to Japan and South Korea, which have strong defense cooperation with the US, but which nevertheless also have more confidence in the Russian leader, the political analyst explained that President Trump has threatened other nations of their region.  Japanese and Korean people don't trust him anymore, as his threats might lead to a war. Hence they are looking for a diplomatic solution to their crises. Russia however is able to provide diplomatic and peaceful solutions to their problems.
Commenting on why people named Russia and China as possible global threats, Dr. Backman said that this is related to hate speeches and hate propaganda against Russia and China in the Western mainstream media.
"As we know, NATO is largely controlling the western mass media. And the western mass media, especially in the NATO member states and in the EU countries, is full of hate speech against Russia and unfortunately against the President of Russia as well. This is the reason why many people might think that Russia is a threat. But actually Russia is not a threat, Russia is a solution to global problems," he finally stated.