DONETSK (Sputnik) — Basurin added that the attempted attacks on DPR positions were accompanied by shelling of Donetsk outskirts. He also recommended for the command of Kiev forces to comply with the Minsk agreements.
"Ahead of the Independence Day of Ukraine, subdivisions of the 57th separate mechanized infantry brigade … attempted to capture our positions in the area of Zhabunki. However, upon having received a commensurate and appropriate response, the enemy fled in disgrace," Basurin told reporters.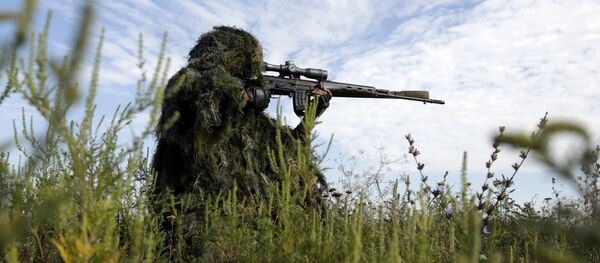 16 August 2017, 16:26 GMT
The military conflict in Ukraine erupted in 2014 after the self-proclaimed east Ukrainian republics refused to recognize the new Ukrainian government that came to power in what they perceived to be a coup. The ceasefire agreement was reached in Minsk in 2015, brokered by the leaders of the Normandy Four group, but the situation has remained tense.
On June 21, a trilateral contact group, composed of Russian, Ukrainian and OSCE mediators, agreed to impose a ceasefire in Ukraine's eastern regions during the summer harvest, which would last from June 24 to August 31. However, the ceasefire failed to hold with both sides of the conflict continuing to blame each other of violations.