Brand new Russian Borey-A and Yasen-M class submarines will become almost "invisible" to hydroacoustic stations, the main means of submarine detection, Izvestiya newspaper wrote. This is thanks to the stealthy sealed pumps produced in Russia.
The designs of the submarines include dozens of pumps, which form the "heart" and "blood system" of the underwater vehicle. They provide for the circulation of the liquid in the reactor, fill the torpedo tubes with water before a strike, and are also responsible for letting the submarine submergence and come back up to the surface. However, the noise they create is the main factor that reveals a nuclear submarine's presence as they can be heard by sonar's sonar stations.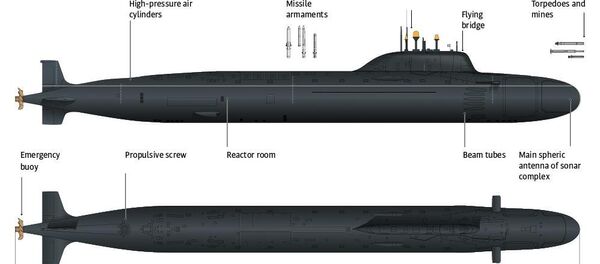 The newest Russian pumps are developed and manufactured at home. Their exact details are, needless to say, classified. If these parameters were public knowledge, the submarine's unique sound could be fingerprinted and detected against the background noise of the sea.
Russian independent naval and militar y expert Alexander Mozgovoy told Radio Sputnuik that a struggle between the means of detection and means of staying hidden is underway between the world powers' submarine fleets.
"Hydroacoustic stations 'listen' not only to hydraulic pumps, but also to the propellers and other mechanisms of a submarine. Of course, the introduction of silent pumps will significantly improve the acoustic secretiveness of Russian submarines, and it's great that such a system is being introduced."
He went on to comment on developments in foreign submarines.
"Modern US submarines are introducing electric drive systems that are stealthier than hydromotors, but we cannot say that we [Russia] made only pumps. New hydroacoustic tech is being introduced in our fleet that reduces the possibility of detection; this is also a very important tool. There must be a whole range of measures to reduce the possibility of detecting submarines. This also applies to our detection systems — the use of unmanned underwater vehicles with communication facilities and so on. It must be complex: you cannot bet only on one system or on separate tools," Mozgovoy concluded.
As of now, three Borey-class (Project 995) submarines have been completed and another three are under construction. Eight Borey-class submarines are expected to enter into service by 2020 and become the primary nuclear force for the Russian Navy.
Russia's third Yasen-M class (Project 885) nuclear submarine will be floated out in 2019. They are Russia's newest class of submarines.