MOSCOW (Sputnik) – The South Korean president also stressed the importance of China's role in bringing North Korea back to negotiations.
"President Moon said he understands why the United States has traditionally said all options were on the table to push North Korea to give up its nuclear ambitions. But he said even the slightest military action will lead to a clash between the South and North, and it will threaten many lives of not only South Koreans but foreigners, including U.S. forces stationed in South Korea," Park Soo-hyun said at a press briefing, as quoted by the Yonhap news agency.
The remarks were made during Moon's meeting with a bipartisan group of US lawmakers. The South Korean president also agreed on the need to exert additional pressure on Pyongyang but pointed out that the conflict must be resolved by peaceful means.
"President Moon noted the need to continue sending a clear message to the North that a brighter future will be guaranteed should it choose to come to the negotiations table, while continuously increasing pressure and sanctions on the North," Park said.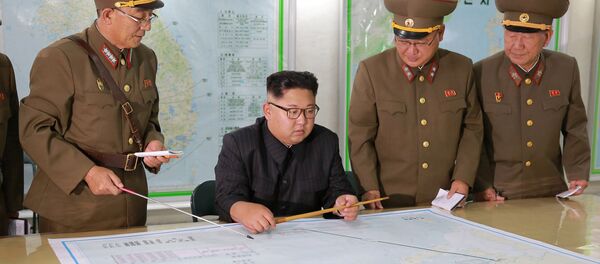 20 August 2017, 19:04 GMT
Tensions around Pyongyang's missile program have flared up in recent weeks, following the adoption of the UN Security Council sanctions, which led to North Korea trading threats and warnings with the United States. Most notably, Pyongyang said it might consider an
attack on the area near the US territory of Guam
in the Western Pacific.
Commenting on the sanctions, North Korean leader Kim Jong Un promised to take decisive steps against the United States, including "physical actions." In response, US President Donald Trump threatened to unleash "fire and fury" against North Korea if it endangered the United States.
In July, Russia and China proposed a "double freeze" scenario, in which North Korea ceases its nuclear missile tests, while US-South Korean military drills are simultaneously halted. The initiative was rejected by the United States. North Korea has not yet issued an official response on the matter.