MOSCOW (Sputnik) — Earlier in the day, tens of thousands of both US and South Korean servicemen started their participation in the UFG that would continue until August 31.
"The Ulchi Freedom Guardian (UFG) drills are the allies' annual and defensive exercises. We are urging North Korea to stop its provocations and return to the negotiation table as soon as possible," Baik Tae-hyun said, as quoted by the Yonhap news agency.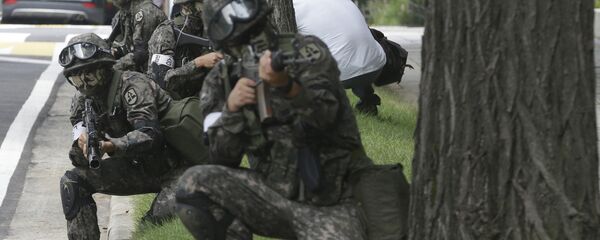 21 August 2017, 07:22 GMT
About 17,500 US servicemen and about 50,000 South Korean troops will reportedly participate in the drills, which had been considered by North Korea as a rehearsal for invasion of its territory.
The United States and South Korea have a long history of cooperation in the sphere of defense that goes back to the Korean War in the 1950s. Within the framework of this alliance, the sides hold joint military exercises on a regular basis. The issue of security on the Korean Peninsula has become more complicated in recent years amid a series of ballistic and nuclear tests carried out by Pyongyang in violation of the UN Security Council's resolutions.