"Currently, the Syrian government forces are rapidly unfolding an offensive on Deir ez-Zor from three directions with the support of the Russian Aerospace Forces," Col. Gen. Sergei Rudskoy, the chief of the Russian General Staff's Main Operational Directorate, said.
"The foothold around this city [Deir ez-Zor] is the last major stronghold of the terrorists on Syrian soil. The remaining [terrorist] forces have been transferred there. According to our information, militants from Mosul and a large part of the most combat-capable Daesh units have been deployed to this area from Raqqa, which are the units of the so-called Syrian Democratic Forces supported by the US and its allies that could not be brought under control for three months," Rudskoy said.
The Russian Aerospace Forces have boosted their operations in the region to help the Syrian army' anti-terrorist campaign.
According to the Russian general, the liberation of Deir ez-Zor area besieged by Daesh terrorists would result in the terrorist group's main forces' defeat.
"With Deir-ez-Zor's deblocking, the main forces of the most odious terrorist groups [Daesh], which aims to create the so-called 'caliphate', would be defeated."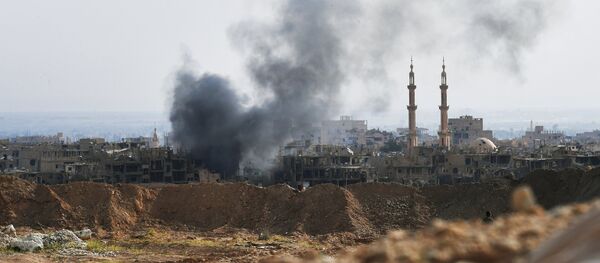 19 August 2017, 08:00 GMT
As part of the operation, the Syrian army gained control over strategically important As Sukhnah settlement, the Russian military said. "A group of Syrian government troops, operating east of Palmyra, took over the  strategically important As Sukhnah settlement and is carrying out its offensive toward Deir ez-Zor." 
"In order to destroy the surrounded terrorists who are trying to flee toward Deir ez-Zor, the intensity of the use of the Russian aviation has been increased to 60-70 sorties a day," Rudskoy said.
Earlier in the day, the Russian Aerospace Forces destroyed a large Daesh terrorist group convoy that had been heading towards Syrian Deir ez-Zor.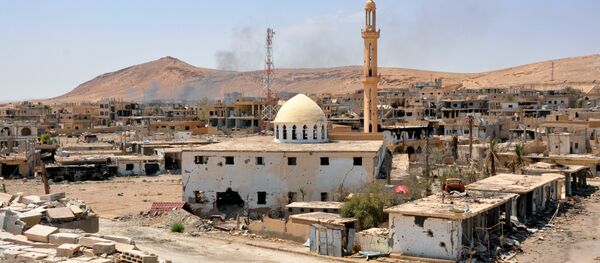 19 August 2017, 13:21 GMT
Recently,
the Syrian government troops
liberated the town of As-Sukhnah in the Syrian province of Homs, which was considered to be the "key to Deir ez-Zor" currently besieged by the terrorist group.
On August 12, Syrian paratroopers were deployed behind Daesh's positions in 20 km from the battlefront; the operation resulted in the liberation of the town of al-Hadar located on the border between Raqqa and Homs provinces. The development paves the way for the operation to free besieged Deir ez-Zor.
Russian Defense Minister Sergei Shoigu said earlier that the Deir ez-Zor liberation would largely mean the successful end of the fight against Daesh.
Deir ez-Zor, located on the shores of the Euphrates River to the northeast of Damascus, and a military airfield near the city have been besieged by Daesh for over three years, with food and ammunition only being delivered by air.