WASHINGTON (Sputnik) — A man in the US state of Texas has been charged in federal court for allegedly attempting to use an explosive device on Saturday to damage a Confederate statue, the Justice Department said in a press release.
"A 25-year-old man has been taken into custody for attempting to maliciously damage or destroy property receiving federal financial assistance," the release said Monday. "A criminal complaint was filed in Houston federal court today charging Andrew Schneck, of Houston."
A park ranger in the Texas city of Houston discovered Schneck near the General Dowling Monument with a pair of suspicious packages, the release said. The ranger noticed the contents inside the box which included a timer and wires, according to the release.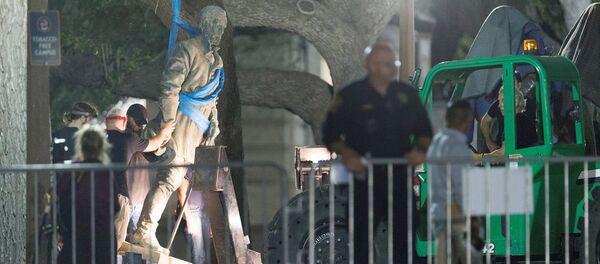 21 August 2017, 12:26 GMT
The Houston Police Department was notified and found that Schneck had explosive contents, the Justice Department said. A police field test of a white powdery substance in a small aluminum tube was revealed to likely be explosive chemicals nitroglycerin and Hexamethylene triperoxide (HMTD), the release added.
Police believe Schneck's items were capable of being an explosive device, the release stated.
According to the Justice Department, he faces up to 40 years in federal prison and a maximum fine of $250,000.