Opposition to the sale, being staged between August 21-24 by South African farmer John Hume, has already proved so strong that hackers even managed to take down the website briefly in protest. Later a group called the National Frog Agency/Central Frog Services, which has the twitter handle @NFAGov, claimed responsibility for the cyberattack.
It posted a statement on the hacked website stating: "Your lack of common compassion for animals is outrageous and has been dealt with properly."
The South African farmer, on the auction website, claims that a legal trade in rhino horns will provide competition for the illegal trade and drive down the price of horn, which can fetch US$3,000 a pound on the black market in South Africa. 
The auction, however, will have no set opening price, according to Johan Van Eyk of Van's Auctioneers.
"We will have to look at what people are willing to pay and that will give us an idea of the price on the legal market," he said.
The 264 horns he's putting up for sale could weigh as much as 1,100 pounds.
Attempt to Reach Asian Market
The concept of selling horn in South Africa has already stirred controversy with most conservation groups firmly opposed to the idea.
Indeed critics emphasize that there's almost no domestic market for rhino horn in South Africa and worry that any horn sold domestically will be trafficked out of the country.
"It's difficult to see how a domestic rhino horn auction will do anything other than send confusing signals to the rest of the world," Ross Harvey, an economist and senior researcher with the South African Institute of International Affairs, told National Geographic.
"If South Africa's domestic market is just about non-existent, one has to ask questions about who the buyers at this auction would sell their horns to," he added.
Opponents are especially concerned about the sale because it has Vietnamese and Chinese language homepages in addition to one in English. 
"Clearly Mr. Hume has a broader market in mind, and this calls into question his motive, in my mind, to sell horn," explained Joseph Okori, head of the South Africa regional office for the International Fund for Animal Welfare, in a post on the NGO's website.
The Humane Society International firmly believes the sale is a clear attempt to reach Asian consumers.
Andrew Rowan, president and CEO, of the British-based charity, warned: "There is a significant risk that horns sold at this auction, even if purchased legally in South Africa, may end up being trafficked to Asian consumer markets by criminal groups.
"This auction threatens to increase demand in Asian countries and thereby spur increased poaching in Africa. The South African government needs to know the world does not support this."
Horn Trade in South Africa
A moratorium on buying and selling rhino horn within South Africa has been in place since 2009, but in 2015 Hume and another rhino horn breeder filed suit to overturn it. 
A court ruling in April opened the way for the domestic trade to begin again, though the ban on the international trade, established in 1977, remains in place.
Hume, who has 1,533 rhinos on his farm in Klerksdrop, about a hundred miles west of Johannesburg, successfully challenged the Department of Environmental Affairs' earlier refusal to hand over the permits that it had granted to him, enabling the sale.
In fact, the court finally ruled in his favor to grant sale permits on Sunday, August 20.
The Constitutional Court in South Africa, which has the world's biggest population of the endangered pachyderms, overruled the government, which means auctions can take place provided buyers and sellers hold permits, and the horns stay in the country after the sale. 
The stated goal of the online sale is to "raise money to further fund the breeding and protection of rhinos," as noted by the website that will host the auction, overseen by Pretoria-based Van's Auctioneers.
Poaching Crisis
South Africa is home to 70 percent of the world's remaining 29,500 white rhinos, but it is in the midst of a poaching crisis. 
Last year poachers slaughtered more than 1,050 rhinos in the country, up from 13 in 2007.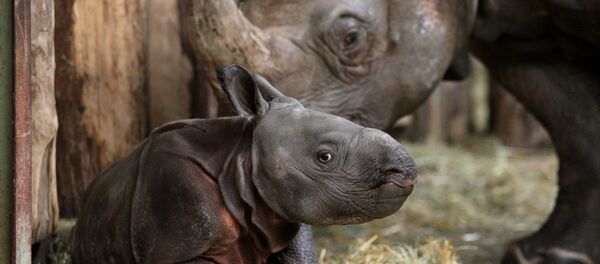 13 February 2017, 20:12 GMT
They are believed to be capitalizing on the demand for rhino horn, smuggled mostly to China and Vietnam, where it's carved into art pieces as well as sold for use in folk medicine.
Rhino horns are highly prized, estimated to fetch up to US$95,000 per kilo on the black market — more than the price of gold or cocaine.
It is composed mainly of keratin, the same component as in human nails. In powdered form, it is claimed to be a supposed cure for cancer and other diseases — as well as an aphrodisiac — in Vietnam and China.
The South African government insists that protections are in place to prevent horns from leaking onto the black market.
"The department places value on the need to monitor the movement of the horns, and for this reason systems are in place to enable us to do that," said Edna Molewa, environmental affairs minister.
She pointed to the permitting system, marking requirements, a national database for rhino horn, and a required DNA profile of each horn as examples of how the government will keep track of the horns.